Objective: By the end of this unit, students will ask and answer questions and make comments about print materials on their own.
by Tonya Nichols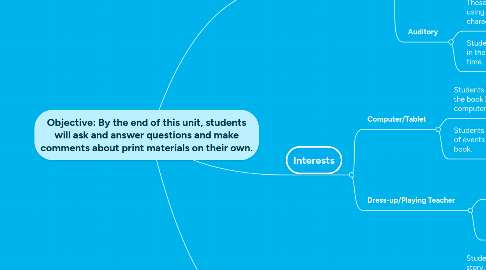 1. Learning Profiles
1.1. I will begin the lesson by reading "The Three Little Pigs" at carpet time.
1.1.1. These students can liste
1.2. Visual
1.2.1. For these students I will read the story from a "big" book so that the pictures are bigger and easier to see.
1.2.2. The students can watch a video of the "Three Little Pigs" on the smartboard.
1.3. Auditory
1.3.1. These students will listen to the story as I read it using different voices for the different characters.
1.3.2. Students can listen to the book on CD in the listening center during center time.
2. Interests
2.1. Computer/Tablet
2.1.1. Students can listen to and watch the book being read on computer.
2.1.2. Students draw pictures on the tablet of events that happened in the book.
2.2. Dress-up/Playing Teacher
2.2.1. Students can use props from a prop box in the Dramatic play center and act out scenes from the book.
2.2.2. Students use the book in the library center to act like the teacher and retell the story to other students.
3. Readiness
3.1. Below grade level
3.1.1. Students color pre-made scene pictures from the story, cut them out, and glue them to another paper in the correct order of events.
3.1.2. Students can answer 3 questions about the types of houses built in the story.
3.2. Above grade level
3.2.1. Students can draw pictures from the story at their tables and I write down what they say the pictures are about.
3.2.2. Students can answer questions about the beginning, middle, and end of the book.