How to buy a shipping container http://adaptainer.co.uk
by Edward James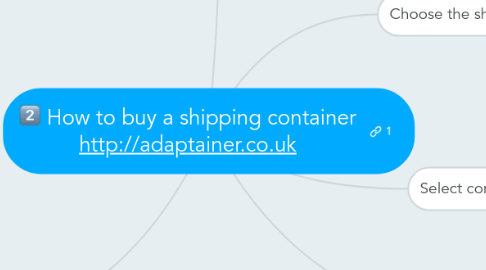 1. Delivery
1.1. Is the ground level?
1.2. Can the delivery vehicle access your site easily or is a special delivery strategy necessary
2. Consider container conversion
2.1. Doors, windows, lights, insulation, temperature control
2.1.1. Destinations
2.2. School classroom, shipping container home, office, pop up bar, shop, event stand, toilet, canteen, welfare facility, bike shed, ticket office, market and more.
3. Pick a shipping container type
3.1. Dry van, refrigerated, flat rack, open side, open top, tunnel containers, tank containers, chemical stores, flat racks, palletwides,
4. Select condition
4.1. New
4.1.1. Used standard
4.1.1.1. Used grade A
4.2. Cargo worthy
4.2.1. Suitable for storage
5. Choose the shipping container sizes
5.1. 10ft
5.1.1. 20ft
5.1.1.1. 40ft
5.1.1.1.1. 45ft