Gottfried Leibniz
by Laura Medellin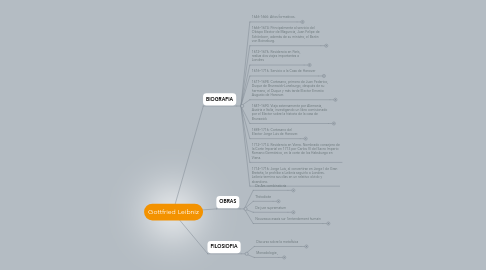 1. BIOGRAFIA
1.1. 1646-1666: Años formativos.
1.1.1. Recruit Project Sponsor
1.1.2. Recruit Project Manager
1.1.3. Review Related Projects and Lessons Learned
1.1.4. Prepare Project Initiation Plan
1.1.5. Brief the Initial Project Team
1.1.6. Review Project Kick-off Plans and Presentation Map
1.1.7. Hold Project Kick-off Meeting
1.2. 1666–1674: Principalmente al servicio del Obispo Elector de Maguncia, Juan Felipe de Schönborn, además de su ministro, el Barón von Boineburg.
1.2.1. Establish Project Objective
1.2.2. Establish Project Scope
1.2.3. Map Requirements
1.2.4. Map Solution
1.2.5. Map Training Requirement
1.2.6. Review Project Scope
1.3. 1672–1676. Residencia en París, realiza dos viajes importantes a Londres
1.3.1. Determine Project Approach, Stages and Steps
1.3.2. Estimate Project Duration
1.3.3. Establish Resource Requirements
1.3.4. Prepare Project Schedule and Budget
1.3.5. Prepare Work breakdown structure
1.3.6. Document Success Criteria
1.3.7. Review Project Schedule
1.4. 1676–1716. Servicio a la Casa de Hanover
1.4.1. Identify Project Resources
1.4.2. Recruit Project Steering Committee
1.4.3. Recruit Project Coordinators
1.4.4. Identify / Recruit Key Stakeholders
1.4.5. Determine Training Requirements
1.4.6. Map the Project Organization Chart
1.4.7. Review Project Organization
1.5. 1677–1698. Cortesano, primero de Juan Federico, Duque de Brunswick-Luneburgo, después de su hermano, el Duque y más tarde Elector Ernesto Augusto de Hanover.
1.5.1. Establish Project Administration Procedures
1.5.2. Establish Quality Control Procedures
1.5.3. Establish Progress Control Procedures
1.5.4. Establish Change Control Procedures
1.5.5. Establish Issue Resolution Procedure
1.5.6. Review Project Control Procedures
1.6. 1687–1690. Viaja extensamente por Alemania, Austria e Italia, investigando un libro comisionado por el Elector sobre la historia de la casa de Brunswick
1.6.1. Estimate Project Costs
1.6.2. Identify and Quantify Benefits
1.6.3. Determine Break-even Point
1.6.4. Analyze Risk
1.6.5. Review Business Case
1.7. 1698–1716: Cortesano del Elector Jorge Luis de Hanover.
1.7.1. Prepare Initiation Stage Assessment
1.7.2. Review Initiation Stage Assessment
1.7.3. Follow-Up Initiation Stage Assessment
1.7.4. Compile Project Initiation Report
1.8. 1712–1714. Residencia en Viena. Nombrado consejero de la Corte Imperial en 1713 por Carlos VI del Sacro Imperio Romano Germánico, en la corte de los Habsburgo en Viena.
1.9. 1714–1716: Jorge Luis, al convertirse en Jorge I de Gran Bretaña, le prohíbe a Leibniz seguirlo a Londres. Leibniz termina sus días en un relativo olvido y abandono.
2. OBRAS
2.1. De Ars combinatoria
2.1.1. Establish checkpoints
2.1.2. Acquire team resources for stage
2.1.3. Conduct stage kick-off meeting
2.2. Théodicée
2.2.1. Determine Frequency of Meetings
2.2.2. Schedule Meetings
2.2.3. Brief Project Board
2.2.4. Prepare Meetings
2.2.5. Conduct Meetings
2.2.6. Follow-up Meeting
2.3. De jure suprematum
2.3.1. Schedule Quality Review Meeting
2.3.2. Prepare for Quality Review Meeting
2.3.3. Conduct Quality Review Meeting
2.3.4. Follow-up Quality Review Meeting
2.4. Nouveaux essais sur l'entendement humain
2.4.1. Update Project Schedule
2.4.2. Update Budget / Costs
2.4.3. Conduct Team Status Review
2.4.4. Create Status Report
3. FILOSIOFIA
3.1. Discurso sobre la metafísica
3.1.1. Prepare Product Evaluation
3.1.2. Conduct Product Evaluation
3.1.3. Initiate Maintenance Process
3.2. Monadologie,
3.2.1. Prepare for Project Closure Meeting
3.2.2. Conduct Project Closure Meeting
3.2.3. Follow Up Project Closure Meeting