Parts of a Speech
by Monet Peter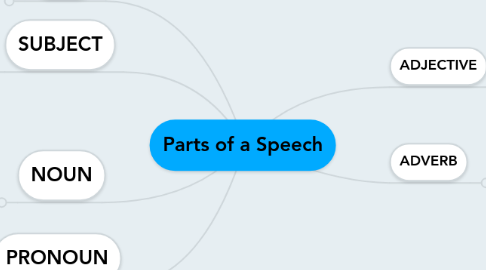 1. ADJECTIVE
1.1. Descriptive word that modifies noun or pronoun
1.1.1. The YOUNG boys enjoy soccer practice.
2. ADVERB
2.1. Indicates when, how, where, and why.
2.2. Modifies a verb,adjective, or another another adverb
2.2.1. Tina walked HAPPILY up the street.
3. NOUN
3.1. A word for a person place or thing.
3.1.1. MARY was very happy.
4. PRONOUN
4.1. A word that replaces and refers to a noun.
4.1.1. Janet has to study in order to get the job SHE wants.
5. SUBJECT
5.1. a noun or pronoun that performs the action of the verb.
5.1.1. The COMPUTERS in the learning center must be replaced.
6. VERB
6.1. A word that shows an action or state of being.
6.1.1. I LIKE my friend.