TEDx Pannonia
by
Dan Taylor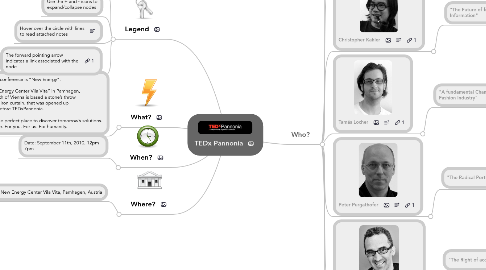 4.0
stars -
1
reviews range from
0
to
5
TEDx Pannonia
Who?
Wolfgang Sator might be called the electric-car pioneer in Austria. For almost 50 years he is dealing with all facets of e-mobility. Wolf Sator lives in Vienna. His frst electric car production in China is nearing completion. These ideas he summarizes un- der the term "Intelligent Mobil- ity". http://wolfsator.squarespace.com/
"Intelligent Mobility", What to do?, start your experience by going by foot, public transport, etc., you'll have a completely different view of the world, The problem of the blank canvas, what to do first, how to start, use your fantasy (do something fun/funny), Perception, People think Intelligent Mobility is about electric cars, It's about new energy vehicles, "Electric cars work betteR", History, Electric cars are just as old as combustion cars, Scrooge McDuck drove an electric car, From 1910 - 1916, The electric car had a come in America, 60 - 70 km range, 40% of the US marketshare were electric cars, Particularly popular were electric taxi fleets, More reliable, easier to operate, Hard and dangerous to start, The gasoline car was a status symbol, "King of the Road", Doctors always has electric cars, Emergency in the middle of the night, the doctor need to be able to get up and go at a moments' notice., Henry Ford purchased 3 electric cars for his wife, But hid them in the garage, A gentleman would never drive an electric car, It was the womans' car, By 1924 most electric cars were off the road, Make something completely different, make a bigger car ?, Make them electric?, 500 sq. km of solar panels can support the entire energy demand of the world.
He is considered the most infuen- tial trend and future researcher in Germany. After a career as a journalist, he founded the "Future Institute at the millennium, which now advises numerous companies and institutions. Matthias Horx commutes between Frankfurt, London and Vienna and is author of several bestsellers. http://www.horx.com/  
"The Future Evolution House", TEDx, is about linking ideas and the future, The future Evolution House - Vienna, The house should never be finished, In construction for the past 5 years, Built around future energies, My father was a futurist, and probably didn't know it., My mother was always afraid that she'd get an electric shock from the sofa, Since 1965, I've wanted to live in space, The work space is completely separate from the living areas, Love, Hub, Guest, Houses have writing on them to denote what happens there, The Hub, The kitchen, reduced to it's most basic elements, combination of modern and natural architecture, How can we make a future house livable?, How do we do it?, How does living change in mega-trends?, globalization, How can architecture help to organize a better family/life/work balance?, Shelter, Small Territory, The basement of mobility, Houses become a hub of activity, Living Room, Sleeping Room, Bathroom, Kitchen, Today's house is reflecting the change in society, mixing of living/kitchen rooms, Smart Green Design, A lot of green design isn't pretty, Rebind the energy of the car to the house, Car energy can be used in the house, Materials, Privalite, electric window that is opaque or transparent, Simplexity Technology, Simplify Tech, wireless charging of mobile phones, Urban Gardening, Convenience Garden system, gardening in containers, "Technology is the answer to questions no one has ever asked?, We need to think different, Simplexity
At just 20 years of age Dominic Schindler, owner and creative mind at Dominic Schindler Cre- ations, collaborated on many large projects: from furniture and light- ing design, jewellery, art and beauty, through to luxury yachts. The basics for his work he ac- quired at the famous "Parsons School of Design" in New York and Paris, and at the "Harvard School of Business and Manage- ment" in Cambridge. http://www.dominicschindler.com/  
"Design Dreaming", Today, Today, Mass production, Mass marketing, low value - long value chain, cheap, Short lifecycle, high revenue, global cooperations, The alternate way, Customization, p2p marketing, long lifecycle, good value - high price, personal service, Start Dreaming, working as an advocate for the consumer, Bumble Bee/Bateria, A wing harness, Parkour wing, termite mound, sea cow, oil spill collector, forrest, Windmills, give design an added meaning, Wind on top, Wave collectors underwater, Turning the windmill sideways, Solar collection in the desert, Buy Consciously, Customer, Designer, Industry, Design Dreaming, Before you dream, You recap the day, First industrialized products, All looked the same, People liked it, Outcome = bauhaus, Brand substitutes, Pre industrialized, You would know those that made items
Sascha Mundstein studied in Italy, China, USA and Austria, lives and works in Austria as a linguist, developer, financial expert and strategy consultant.   Since 15 years he concentrates on business models of the future and is known as a lateral thinker in internet development. http://www.crealiity.com
"The Power of Linking human Potential", "Look Deep into Nature, and then you will understand everything better" - Einstein, The model we use to describe reality effects the reality, The way carbon looks is represented by a molecular structure, but is very similar as a diamond, We can create reality if we freshen up our models, "Truth is simply what works", Reality is merely an illusion, albeit a very persistent one, Models, Allow us to conceive and develop, electricity, fundamentally based on atomic models., Wood, Fire, Earth, Metal, Water, Gain insight and influence reality, "If the facts don't fit the theory, change the facts", If we understand the building blocks of nature, We can make this planet a better place, Human Nature, What do you have?, Resources, What can you do?, Talents, What have you done?, Experience, Who do you know?, Network, What are your goals?, Goals, What do you wish for?, Dreams, "All religions and sciences are branches from the same tree."
Chistopher Kahler was born in the Philippines, lived in Australia, Bangladesh and the Middle East and is now based in Austria. After an engineering study in the US, he earned a degree in biomechanics at the University of Vienna and founded his frst company in Shanghai. Christopher is busy with build- ing his second company. http://qriously.com/  
"The Future of free, digital Information", Colors of links, The bluer the link, the more likely you are to click on it, today's digital life is built around advertising, 2.1% of the US GDP, 300-3000 ads per day, average american view, The model, relatively unchanged since the dawn of mass media, Services are designed to be most efficient at generating ad revenue, An Ad is an inticement, witness, wallets, walking, Instead of serving an ad, what if be ask them something, replace "buy" with "Think", 1% of all ads were clicked, ad placed in standard ad area, Flattr, Microtransaction donations, from a centralized wallet, microtransaction donation, Why are we paying for "free"?, Google ad for sunglasses $10, $9 to the merchant, $1 to Google, You've paid for your search query
TamásLocherisco-founderof Garmz.com. This internet plat- form represents a fundamental change in the fashion industry. Designers can create their own fashion labels on Garmz.com, where they focus on the design – the platform takes over the management of it.   http://www.garmz.com/  
"A fundamental Change of Fashion Industry", Let's change the fashion industry, Fashion allows you to express who you are, who you REALLY are, What you are inspired by, 600 billion euro industry worldwide, Trend Building, Always starts with one person, Comes back to the market streamlined, The industry waters it down, Trend Hunting, Mass Production, Mass Distribution, Mass Marketing, Barriers, You have to sell massive quantities before a producer will want to work with you, Fashion is like a bank, Developers will give real estate to fashion stores, they bring in shoppers, Designers ->, Marketing, Money, Fabric, logistics, research, quality control, consumer, Designers- >, Internet, Consumer
Peter Purgathofer is ao.univ.- prof. at the Institute of Design and Effciency Research at TU Vienna. In early 2005 he qualifed in the feld of "Interactive Systems" under the title "History, Theory and Practice of the Methods of Design". Since 2006 he is the Austrian Representative of the IFIP TC14, the Technical Com- mittee on Entertainment Com- puting. http://igw.tuwien.ac.at/designle hren/Site/Welcome.html  
"The Radical Portfolio", Design theory/Design Practise, how does design factor into daily life?, &quot;Actual learning is a collateral benefit of going to school/university&quot;, The Game of School, Education, You can pass a test, Or, You can learn something, We create systems, and analyse students as they take tests based on these systems, 5 years ago, If I work harder, do students learn more?, NO!, 2 years ago, Slides on a board, internal twitter allows students to actively interact with the lecture, tags, comments, favorites, notes, links, 2-3 weeks post lecture, Lecturer slides, notes, sources, questions, answers, 50% of notes are posted during class, 50% are posted post class, Findings, Take slides from future lectures, Now, The Radical Portfolio, No assignments, No deadlines, No exams or tests, No >>game of school<<, A catalogue of activities, students document online portfolio system, We assign points for good work, No single activity is more than 10% of the final grade, most are <5%, hand-in limit/week, eliminates student end of semester rush, Students can review contributions of their peers via double blind reading, Students can also ask for review before handing in activity, peers, teachers, A new suggested activity is accepted is worth +2 points, Results, reverse bell curve, a catalogue of activities can subvert a degree, i.e. let me learn what I want to learn to make me successful, Student's collection of work is online, archived forever, can be used in the future for job interviews/examples, Allows students to build a working portfolio WHILE still in school
Mark A. M. Kramer teaches at the university of applied sciences in Hagenberg and is part of the company"Yassuuu", which develops services for free access to information. It deals with the connections of mobile technologies and their impact on society. He is also co-founder of "Mobile Monday". http://www.mamk.net/  
"The Right of accessible Knowledge", Accessible Knowledge, "everyone has the right to receive and import information and ideas through and media and regardless of frontiers", 1.8 billion internet connections in the world today, 3.4 billion mobile devices, The mobile device WILL be the world's most popular internet access device, Making the most impact in less developed areas, It's about the people not technologies, The future of knowledge access, is driven by mobile connectivity, The future is already here, it's just not evenly distributed., What can we do?, Think of knowledge access as a human right, if we don't, then why are we trying to spread ideas and knowledge?
Lisa Muhr, one of the four shareholders of the frst Austrian eco fashion label "Göttin des Glücks" would like to help transforming the throw-away society of today in a conscious, values-oriented society of tomorrow. http://www.goettindesgluecks.at  
"Dignity in Economy – Dream or Realitiy?, Imagine, no stress, a secure comfortable workplace, no competition trying to replace me, appropriate salary allowing me a good life, leisure time, and balance, where i am respected and treated as human being, Who can move the world?, Capitalism with it's free economy market, is responsible for the rich getting richer and the poor getting poorer, What do we need to change the world?, Feel the sadness of the world, 13 yr. old boy from bangledesh, 15 hours per day 7 days per week, 1 week holiday, if the company is nice, When we realize that people are living in misery because of our consumerism, abandon our egoism, Ills of the world, No focus on the essentials, Incorrect handling of the problem poor/rich in the world., Throwaway society and the addiction to consumerism, Stock exchanges, banks, capital, one large casino, Profits and Growth, Stress, competition, no reliability, no constant, New node, What is the Difference?, Nothing, we all have just one life, Every creature has the same value, FairTrade, Minimum price higher than the worldmarket price, Fairtrade premium (communal fund), Long term supply contracts, Advance credits, 21st century success, goodness of heart, Joy, understanding, positive thinking, helpfulness, openness
Martin Wesian describes how "SODIS" (Solar Water Disinfec- tion) already helped generate clean drinking water for several million people in developing countries, especially Africa, and parts of Latin America and Asia. http://www.waterdisinfection.or g  
"Water is Life", How?, Boil, downside?, high energy input, CO2 output, Chlorine tablets, downside?, dependence on supplier, Can not guarantee 100% safe water, Clean Water is a Human Right, since 28 July 2010, drinking water is a rare commodity, 0.3% of the world's water supply is fresh water, Water demand has increased 6 fold, Water Consumption, rising in markets outside the US and EU, 1 billion people have no access to safe drinking water, 1.5 have limited access, 80% of diseases are contributed to lack of clean, pure drinking water, 50% of hospital beds are occupied by water related illness, human tradegy, financial burden, Every 15 seconds a child dies due to lack of clean water, By 2015 clean water should be available to hald the people around the world suffering from a shortage of drinking water, How do we get water to the people?, We don't, It needs to be their responsibility to do it, What can be done to clean the water?, Solar water disinfection, distilled by the sun, only 3 million using this method, The problem is with training, Monitoring – weather changes, WADI, water problems can not be solved with our western approach, People need to learn how to do it themselves for it to be effective, UV sensor measures the rays that will disinfect, Smily face. When your water bottle smiles at you – the water is clean, Establish a program similar to "One Laptop per child", Ideally WADI should be part of a first aid kit, no more waiting lines at distribution trucks, after a natural disaster, Water is becoming the new oil
Claus Schnetzer is an ongoing architect and assistant profess- or at the Technical University of Vienna. The project "Palettenhaus", de- veloped in collaboration with Gregor Pils, was exhibited in 2007 at the Architectural Bien- nale in Venice. http://palettenhaus.com/  
"Project Palettehouse", A building that can be built anywhere, Paletts are available worldwide, Railway, Boat, containers, Trucks, At the end of their lifecycle, pallets are usually burned, our goal was to find a better solution, Can be used to build quick and effective refugee camps, 20 sq. meter building can be built by 3 people in 30 mins, Building matieral, The number of paletts needed, low energy building 800 paletts will build a house, Detachable, Floors, Walls, Ceilings, The house consumes 10x less energy than the average home, Every 6th person in the world lives in a slum, Shacks made of corrugated metal, no insulation, First school made of paletts, Johannesburg, SA, Materials for aid shipments usually are delivered on paletts, No screws or nails are necessary
Out of nowhere, Albert Frantz discovered at the age of 17 his love to play the piano and for classical music.   After winning several piano competitions, he was awarded the first pianist of a "Full Bright Fellowship Scholarship" to study at the conservatory in Vienna at Roland Batik classical music. http://www.key-notes.com  
"The Power of Finding our hidden Dreams", Music, Kindergarten, Played back what he heard in school from his principle, at age 13 - took a trip to pittsburgh, collectively declared war on classical music, left the concert, fingers slammed in a door, strike 1, car accident on the motorway, strike 2, Albert's teacher: He'll never be able to play the piano, strike 3, at age 17 I discovered that classical music was great!, I don't know what I was doing was supposedly impossible, Thinking we can't guarantees failure, Beliefs, where do our beliefs about what is and what is not possible come from?, Deaf percussionist can hear with 'other' parts of his body, A pianist that has learned to play with his feet, We have to break the rules, Looking both ways made me find a new solution to an old problem., Challenges are symbols, can be manufactured, or arise from within, Dreams have objective measures, meaning is measured by challenges, The purpose of challenge is growth, Your hidden dream is something you fear, Inspiration and fear are two different things, Finding the determination and commitment is sometimes all we need, If you have total certainty in your internal world, you WILL find a way, Emotions can be powerful resources, Dreams are entirely personal and totally relevant, internal successes are even more important
Where?
Venue: New Energy Center Vila Vita, Pamhagen, Austria
When?
Date: September 11th, 2010, 12pm – 7pm
What?
The theme of the conference is "New Energy". The venue "New Energy Center Vila Vita" in Pamhagen, 50 kilometres south of Vienna is based a stone's throw away from former iron curtain, that was opened up exactly 21 years before TEDxPannonia. So for us, this is the perfect place to discover tomorrow's solutions. For a better Future. For you. For us. For humanity.
Legend
Nodes are drag and drop, place them anywhere you like
Use the + and - icons to expand/collapse nodes
Hover over the circle with lines to read attached notes
Well done!