TEDx Pannonia
by
Dan Taylor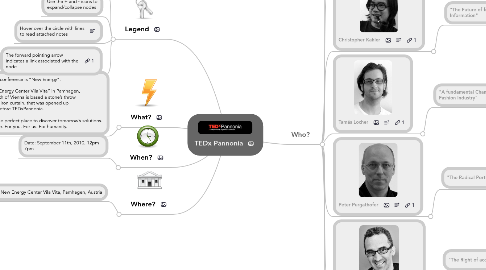 4.0
stars -
1
reviews range from
0
to
5
TEDx Pannonia
Who?
Wolfgang Sator might be called the electric-car pioneer in Austria. For almost 50 years he is dealing with all facets of e-mobility. Wolf Sator lives in Vienna. His frst electric car production in China is nearing completion. These ideas he summarizes un- der the term "Intelligent Mobil- ity". http://wolfsator.squarespace.com/
He is considered the most infuen- tial trend and future researcher in Germany. After a career as a journalist, he founded the "Future Institute at the millennium, which now advises numerous companies and institutions. Matthias Horx commutes between Frankfurt, London and Vienna and is author of several bestsellers. http://www.horx.com/  
At just 20 years of age Dominic Schindler, owner and creative mind at Dominic Schindler Cre- ations, collaborated on many large projects: from furniture and light- ing design, jewellery, art and beauty, through to luxury yachts. The basics for his work he ac- quired at the famous "Parsons School of Design" in New York and Paris, and at the "Harvard School of Business and Manage- ment" in Cambridge. http://www.dominicschindler.com/  
Sascha Mundstein studied in Italy, China, USA and Austria, lives and works in Austria as a linguist, developer, financial expert and strategy consultant.   Since 15 years he concentrates on business models of the future and is known as a lateral thinker in internet development. http://www.crealiity.com
Chistopher Kahler was born in the Philippines, lived in Australia, Bangladesh and the Middle East and is now based in Austria. After an engineering study in the US, he earned a degree in biomechanics at the University of Vienna and founded his frst company in Shanghai. Christopher is busy with build- ing his second company. http://qriously.com/  
TamásLocherisco-founderof Garmz.com. This internet plat- form represents a fundamental change in the fashion industry. Designers can create their own fashion labels on Garmz.com, where they focus on the design – the platform takes over the management of it.   http://www.garmz.com/  
Peter Purgathofer is ao.univ.- prof. at the Institute of Design and Effciency Research at TU Vienna. In early 2005 he qualifed in the feld of "Interactive Systems" under the title "History, Theory and Practice of the Methods of Design". Since 2006 he is the Austrian Representative of the IFIP TC14, the Technical Com- mittee on Entertainment Com- puting. http://igw.tuwien.ac.at/designle hren/Site/Welcome.html  
Mark A. M. Kramer teaches at the university of applied sciences in Hagenberg and is part of the company"Yassuuu", which develops services for free access to information. It deals with the connections of mobile technologies and their impact on society. He is also co-founder of "Mobile Monday". http://www.mamk.net/  
Lisa Muhr, one of the four shareholders of the frst Austrian eco fashion label "Göttin des Glücks" would like to help transforming the throw-away society of today in a conscious, values-oriented society of tomorrow. http://www.goettindesgluecks.at  
Martin Wesian describes how "SODIS" (Solar Water Disinfec- tion) already helped generate clean drinking water for several million people in developing countries, especially Africa, and parts of Latin America and Asia. http://www.waterdisinfection.or g  
Claus Schnetzer is an ongoing architect and assistant profess- or at the Technical University of Vienna. The project "Palettenhaus", de- veloped in collaboration with Gregor Pils, was exhibited in 2007 at the Architectural Bien- nale in Venice. http://palettenhaus.com/  
Out of nowhere, Albert Frantz discovered at the age of 17 his love to play the piano and for classical music.   After winning several piano competitions, he was awarded the first pianist of a "Full Bright Fellowship Scholarship" to study at the conservatory in Vienna at Roland Batik classical music. http://www.key-notes.com  
Where?
Venue: New Energy Center Vila Vita, Pamhagen, Austria
When?
Date: September 11th, 2010, 12pm – 7pm
What?
The theme of the conference is "New Energy". The venue "New Energy Center Vila Vita" in Pamhagen, 50 kilometres south of Vienna is based a stone's throw away from former iron curtain, that was opened up exactly 21 years before TEDxPannonia. So for us, this is the perfect place to discover tomorrow's solutions. For a better Future. For you. For us. For humanity.
Legend
Nodes are drag and drop, place them anywhere you like
Use the + and - icons to expand/collapse nodes
Hover over the circle with lines to read attached notes
Well done!