Marketing Presentation - Group 3 - Zi Xu Gu
by Tony Gu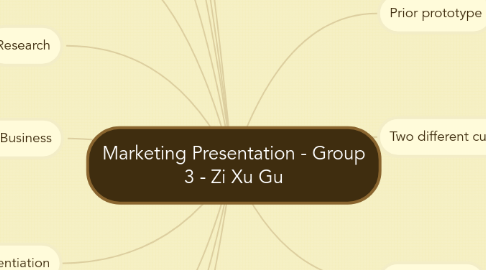 1. Prior prototype
1.1. Active audio translator
1.1.1. Application software
2. Two different customers
2.1. business people
2.1.1. International business people travelling around the world, they may have a lot of language barriers
2.2. New Immigrants
2.2.1. When people immigrant to another country, language is a big problem at the beginning
3. Cost structure
3.1. license fee
3.2. purchase
3.2.1. Can be purchased on app store
3.3. free 30 days
3.3.1. Customers will need this app for a long time, 30 days is not enough for learning a new language.
4. Delivery
4.1. Download online
5. Present value chain
5.1. This application is a brand new idea for this type of problems, even thought many people have done it, but our app still wins in a lot of ways. For ex, conveniency.
6. Alliances
6.1. google play
6.1.1. For android phones, people can download from google play store
6.2. apple store
6.2.1. For Iphones, people can download from Apple Store
7. Differentiation
7.1. why my product or service.
7.2. better
7.3. faster
7.4. cheaper
8. EBusiness
8.1. feedback
8.1.1. Bug and error reporting
9. Research
9.1. Audio Translator
10. Applied marketing and strategy
10.1. Advertising
10.2. App ad
11. Analysis and Preparation
11.1. Well prepared
11.2. Topic well known
12. Triple - bottom line
12.1. profit
12.2. people
12.2.1. Make communication much easier
12.3. planet
13. PEP
13.1. professionalism
13.1.1. Topics divided equally and well prepared
13.2. enthusiastic
13.2.1. Make the presentation interesting
14. 80% visual
14.1. Mostly picture
14.2. Few words on slide only