Mobile Apps in Education by Katherine Fuller and Stephanie Friebe
by Kate Fuller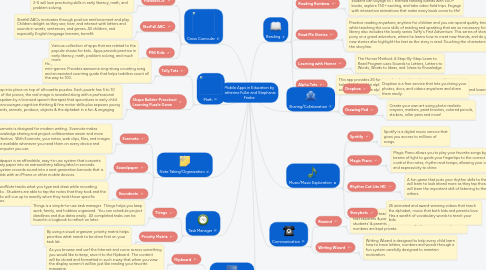 1. Reading
1.1. Kindle
1.1.1. The Kindle is an electronic device for downloading, storing, and reading electronic books, known as e-books. You can read newspapers, subscribe to magazines and blogs, and even play audio files such as MP3's or audio books.
1.2. Reading Rainbow
1.2.1. Experience Worlds of Adventure with Skybrary, where your student can voyage to 7 themed reading islands with 500+ books, explore 150+ exciting, and take video field trips. Engage with interactive animations that make every book come to life!
1.3. Read Me Stories
1.3.1. Practice reading anywhere, anytime for children and you can spend quality time with your child while teaching the core skills of reading and speaking that are so necessary for every child. The library also includes the lovely series Tuffy's First Adventure. This series of stories takes Tuffy the pony on a grand adventure, where he learns how to meet new friends, and do good deeds. These new stories also highlight the text as the story is read. Touching the characters on screen expands the storyline.
1.4. Learning with Homer
1.4.1. The Homer Method: A Step-By-Step Learn to Read Program uses Sounds to Letters, Letters to Words, Words to Ideas, and Ideas to Knowledge
1.5. Alpha Tots
1.5.1. This app provides 26 fun preschool puzzles and mini-games that helps kids learn the alphabet., an engaging alphabet sing-a-long song, an interactive alphabet that helps kids recite their ABCs, and upper- and lowercase versions of every letter.
2. Communication
2.1. Remind
2.1.1. Remind offers teachers a free, safe and simple way to instantly text students & parents. Teachers can send messages directly to students' & parents' phones. Messaging is safe because phone numbers are kept private.
2.2. Writing Wizard
2.2.1. Writing Wizard is designed to help every child learn how to trace letters, numbers and words through a fun system carefully designed to maintain motivation.
3. Note Taking/Organization
3.1. Evernote
3.1.1. Evernote is designed for modern writing. Evernote makes knowledge sharing and project collaboration easier and more effective. With Evernote, your notes, web clips, files, and images are available whenever you need them on every device and computer you use.
3.2. Soundpaper
3.2.1. Soundpaper is an affordable, easy-to-use system that converts ordinary paper into an extraordinary talking label in seconds. This system records sound into a next generation barcode that is readable with an iPhone or other mobile devices.
3.3. Soundnote
3.3.1. SoundNote tracks what you type and draw while recording audio. Students are able to tap the notes that they took and the audio will cue up to exactly when they took those specific notes.
4. Research/Browsing
4.1. Flipboard
4.1.1. As you browse and surf the Internet and come across something you would like to keep, save it to the flipboard. The content will be stored and formatted in such a way that when you view the display screen it will be just like reading your favorite magazine.
4.2. BrainPOP Jr.
4.2.1. Get a different animated movie every week and check out related quizzes and educational activities. The app spans subjects within Science, Social Studies, Reading, Writing, Math, Health, Arts and Technology. BrainPOP Jr. content is designed to cultivate critical thinking skills and encourage children to ask questions and make connections. The app is easily navigable by kids ages 5-9.
5. Sharing/Collaboration
5.1. Dropbox
5.1.1. Dropbox is a free service that lets you bring your photos, docs, and videos anywhere and share them easily.
5.2. Drawing Pad
5.2.1. Create your own art using photo-realistic crayons, markers, paint brushes, colored pencils, stickers, roller pens and more!
6. Music/Music Exploration
6.1. Spotify
6.1.1. Spotify is a digital music service that gives you access to millions of songs.
6.2. Magic Piano
6.2.1. Magic Piano allows you to play your favorite songs by following beams of light to guide your fingertips to the correct note. You control the notes, rhythm and tempo, allowing your creativity and expressivity to shine.
6.3. Rhythm Cat Lite HD
6.3.1. A fun game that puts your rhythm skills to the test. Students will learn to look ahead more as they tap these rhythms, and will learn the important skill of listening to themselves and others.
6.4. Storybots
6.4.1. 26 animated and award-winning videos that teach the alphabet, music that both kids and parents love. Has a wealth of vocabulary words to teach your kids.
7. Task Manager
7.1. Things
7.1.1. Things is a simple-to-use task manager. Things helps you keep work, family, and hobbies organized. You can schedule project deadlines and due dates easily. All completed tasks can be found in a Logbook to reflect on later.
7.2. Priority Matrix
7.2.1. By using a visual organizer, priority matrix helps prioritize what needs to be done first on your task list.
8. Math
8.1. Tally Tots
8.1.1. Helps toddlers learn the 123s with 20 awesome mini-games. Provides awesome sing-along counting song and an assisted counting guide that helps toddlers count all the way to 100.
8.2. Shape Builder-Preschool Learning Puzzle Game
8.2.1. Easy to move shapes that snap into place on top of silhouette puzzles. Each puzzle has 5 to 10 pieces & after positioning all of the pieces, the real image is revealed along with a professional voice recording of the word spoken by a licensed speech therapist that specializes in early child development. Shape Builder encourages cognitive thinking & fine motor skills plus exposes young minds to new music instruments, animals, produce, objects & the alphabet in a fun & engaging format with sound effects!
9. Cross Curricular
9.1. Funbrain Jr.
9.1.1. Kids can practice letter and number recognition, sequencing, patterns, letter sounds, and more. Kids ages 2-6 will love practicing skills in early literacy, math, and problem solving.
9.2. StarFall ABC
9.2.1. Starfall ABCs motivates through positive reinforcement and play. Children delight as they see, hear, and interact with letters and sounds in words, sentences, and games. All children, and especially English language learners, benefit.
9.3. PBS Kids
9.3.1. Various collection of apps that are related to the popular shows for kids. Apps provide practice in early literacy, math, problem solving, and much more