Social Media and effective strategies for student engagement outside the online classroom
by Steven Shivers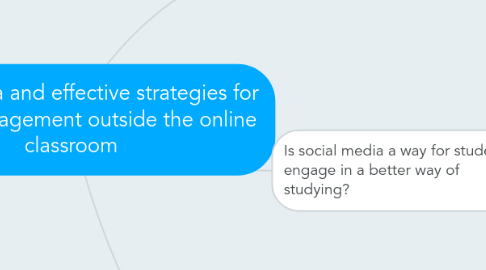 1. Different Social Media sites and what they offer
1.1. Facebook
1.1.1. Allows students to create closed groups only members of the class can join
1.2. Open Study
1.2.1. Social Media site that allows students to make groups and study with other people studying the same topic
1.3. Mixable
1.3.1. A Purdue site that allows students to share notes and also create online study groups
2. Is social media a way for students to engage in a better way of studying?
2.1. Students have a resource that they use everyday to help them study
2.2. It helps students use and/or develop skills to help them become self-sufficient learners.
2.3. There is a wide array of people on social media willing to help and put in their own sometimes professional input.
3. Concern of keeping social media and studying separate
3.1. Students would rather keep their social media and school work separate.
3.2. Teachers feel social media is a distraction to students
3.3. Students say there is a lack of clarity when it comes to some schools policy on social media use in the classroom
4. Parry, M., & Young, J. R. (2010). New social software tries to make studying feel like facebook. The Chronicle of Higher Education, Retrieved from http://search.proquest.com/docview/816280196?accountid=8289
5. Blaschke, L. (2014). Using social media to engage and develop the online learner in self determined learning. Research In Learning Technology, 22. doi:http://dx.doi.org/10.3402/rlt.v22.21635
6. Coffin, T., & Fournier, J. (n.d.). Social Media in the Learning Setting: Opportunities and Challenges. Retrieved June 1, 2015, from https://www.washington.edu/itconnect/wp content/uploads/2013/10/Social-Media-in-the-Learning-Setting.pdf