KIDSABILITY (serving Kitchener/Waterloo)
by Karen Canapini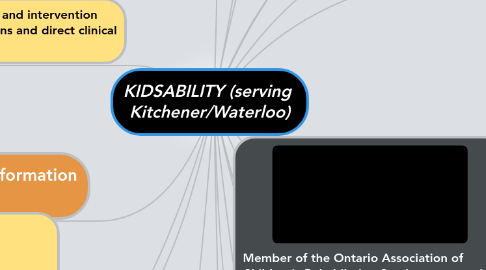 1. Accessing the services and programs
2. *uniqueness of each child and youth and the right to realize their full potential *inclusive and empowering relationship with families and the wisdom they provide *power of working together with families, partners, donors and funders *culture of professionalism, knowledge, innovation and accountability and a practice of resilient determination in all that we do
3. Goal/Mission-
4. Vision
5. Services offered
6. KidsAbility embraces and respects all types of diversity and strives to create a safe and welcoming environment for everyone. Clients, families, volunteers, staff, and community partners from all ethnic and social backgrounds are welcome at Kidsability.
7. Member of the Ontario Association of Children's Rehabilation Services (OACRs)
8. "KidsAbility™ is committed to providing a barrier-free environment for clients, staff and visitors. KidsAbility will be accessible and inclusive respecting dignity and independence of people with disabilities. "
9. Provides rehabilitation and intervention services, treatment plans and direct clinical service .
10. "An inclusive journey to adulthood for children with special needs requires community collaboration, sharing best practices, knowledge sharing, and raising the general level of understanding of 'special needs'. All of this helps build the capacity of the broader community to support their journey."
11. "KidsAbility™ provides therapy and support services to children and youth, from birth to age 18, who have developmental, physical and/or communication delays or challenges. KidsAbility provides these services to children and families that live in Waterloo Region or Wellington County."
12. To empower children and youth with complex special needs to realize their full potential.
13. Parents/Legal Guardians can call directly or Doctors, Specialists and Service Providers can submit a Referral Form to KidsAbility with the consent of the family
14. Equity, Inclusion & Diversity
15. Resources and information provided.
16. *Ask a professional *Links to information and resources in the community and beyond *Online Resource Centre Catalogue *Newsletters published by KidsAbility and *Welcome Package Documents *Therapy Store: Items for sale onsite including fine motor, sensory, gross motor and oral motor items
17. *Autism Intervention Specialist *Augmentative Communication Specialist * Resource Services Coordinator *Medical Doctor *Occupational Therapist *Physical Therapist *Speech Languages Pathologist
18. Available Professionals
19. Potential Realized
20. Values