Community Development Council Durham http://www.cdcd.org/
by Robin Peissel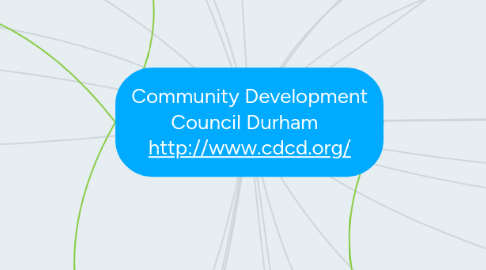 1. Settlement Programs
2. Who we are!
3. Vision: to create and maintain "an equatable, inclusive and socially just community" so that all may feel free and safe to participate in their community
4. Mission: identify community needs and inform policy and programming
5. Guiding Principles:
6. uphold and embody equity, inclusivity and social justice
7. enhance/protect social and economic rights and freedoms
8. Meaningful community participation; every person shall be equipped with the tools/resources to participate
9. sustainable solutions to community concerns
10. Community Development & Research
11. "the process of developing active & sustainable communities based on principles of social justice, inclusion and mutual respect"
12. "to create spaces for dialogue and the creation of knowledge, and also to effect positive social change through community-driven social research and planning"
13. Housing Help Durham
14. Housing Help: Landlord Database - list of rooms, apartments and houses for rent
15. Housing Stability Program: help for singles, couples &families to keep their rental housing by offering financial assistance
16. Low Income Energy Assistance Program year-round assistance to low-income residents to pay their energy bills
17. Housing Outreach Program Seniors, families, singles & youth who are at risk for losing their housing, under housed or are homeless
18. Orientation Serve those who are new to Canada, permanent residents, convention refugees and live-in caregivers. Skilled counselors work to make their settlement safe and informed
19. Newcomer Settlement Program To help newcomers fully engage in all aspects of life in Canada. Provides information about: - housing; legal issues;referral for Citizenship&Immigration; assist with filling in forms, invitation letters; financial issues; education; language classes; life skills;employment; transportation; health
20. Community Connections Program Integrates Newcomers into Canadian lifestyles, social supports ease the transition. Opportunities: practice conversational English; learn about their community, meet people from around the world; share stories & experiences; attend workshops; develop networks & make new friends
21. Settlemetn Workers in Schools (SWIS) Program Goal: to promote settlement & foster student achievement
22. "SWIS Mission Statement SWIS Durham is committed to providing quality initial settlement services to newcomer families with school aged children in the region of Durham; offering service that is; confidential, culturally appropriate, non-judgemental and sensitive to the needs of the client, in an inclusive, accessible manner that empowers and fosters client independence."
23. The SWIS is part of a multilingual team available to support home-school communication, promote parent engagement in the school community & provide professional development opportunities for school staff.
24. For Parents: Answer questions and make connections for: learning English; locating educational resources; housing, health, employment & immigration services; as well as legal services