HALF THE SKY: Turning Oppression into Oppotunity for Women Worldwide
by Ana Lucia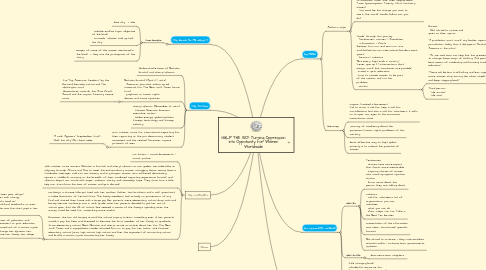 1. THE BOOK AS AN OBJECT
1.1. Cover description
1.1.1. blue sky --> title
1.1.2. - Subtitle evokes topic, objective of the book - Proverb: "Women hold up half the sky"
1.1.3. images of some of the women mentioned in the book -> they are the protagonist of the story.
2. THE AUTHOR
2.1. Husband-wife team of Nicholas Kristof and Sheryl WuDunn
2.2. Nicholas Kristof (April 27, 1959) - American journalist, author,op-ed columnist for The New York Times (since 2001) - Emphasis on human rights abuses and social injustices.
2.2.1. -2011,"Top American Leaders" by the Harvard Kennedy School and The Washington Post. -Humanitarian awards: the Anne Frank Award and the Dayton Literary Peace Prize.
2.3. Sheryl WuDunn (November 16, 1959) - Chinese-American business executive, writer. - Global energy, global markets, foreign technology and foreign industry.
2.4. 1990, Pulitzer Prize for International Reporting for their reporting on the pro-democracy student movement and the related Tiananmen Square protests of 1989
2.4.1. - "A Path Appears" (September 2014) - "Half the Sky" No. 1 best seller.
3. Notes
4. MEANING
4.1. Author's style
4.1.1. Organized and structured
4.1.1.1. -Introduction: The Girl Effect - 14 Chapters divides by 5 subjects: Sex trafficking and prostitution, maternal mortality, sexual violence, microfinance, girls' education - Appendix: Organizations Supporting Women - Aknowledgments - Notes
4.1.2. Quote to introduce every subject: - "Women might just have something to contribute to civilization other than their vaginas"Mark Twain (Emancipation Twenty- First Centuary Slaves) - "You must be the change you wish to see in the world" Gandhi (What can you do)
4.1.3. "Guide" through this journey - Testimonies/ Stories / Anecdotes - Information / Facts "betwen 600,000 and 800,000 are trafficked across international borders each years" - Lessons/ Solutions "Not every fight ends in victory" "never give up (...) interventions don't always work, but successes are possible" ->Invest in girls' education ->how to include women to be part of the solution and not the problem - Photos
4.1.3.1. Honest - Not afraid to critize and gives us their opinion "A prohibition won't work any better against prostitution today than it did against Alcohol in America in the 1920s" " As we said, laws can help, but the greatest challenge is to change these ways of thinking. And perhaps the very best means of combating suffocating traditions is education" "There will be less trafficking and less rape if more women stop turning the other cheek and begin slapping back"
4.1.3.2. Third person - "We wrote" - "We saw"
4.2. Message
4.2.1. Inspire, Created a Movement Call to arms, a call for help, a call for contributions, but also a call for volunteers. It asks us to open our eyes to this enormous humanitarian issue.
4.2.2. Journey of awakening about the paramount human rights problems of this century
4.2.3. Most effective way to fight global poverty is to unleash the potential of women
5. THE CONTENTS
5.1. non-fiction / Social Movements / Social Justice
5.2. With Pulitzer Prize winners Nicholas D. Kristof and Sheryl WuDunn as our guides, we undertake an odyssey through Africa and Asia to meet the extraordinary women struggling there, among them a Cambodian teenager sold into sex slavery and an Ethiopian woman who suffered devastating injuries in childbirth. Drawing on the breadth of their combined reporting experience, Kristof and WuDunn depict our world with anger, sadness, clarity, and, ultimately, hope. They show how a little help can transform the lives of women and girls abroad.
5.3. Dai Manju, a chinese little girl, lived with her mother, father, two brothers and a sick great-aunt in Dabie Mountains of Central China. The family members had virtually no possessions of any kind and shared their home with a large pig. Her parents were elementary school drop outs and barely literate. Dai Manju was in sixth grade when her parents decided to pull her out of school given that the 13$ of school fee seemed a waste of the family's spending when the money could be used for somenthing more useful. However, she has still hanging around the school, hoping to learn something even if her parents wouldn't pay the fees and dreamed to become the first member of her family to graduate from elementary school. Next, Nicholas and Sheryl wrote an article about her for The New York Times and a sympathetic reader donated $10,000 to pay for her tuition. She finished elemntary school, junior high school, high school and then the equivalent of accounting school and broke a vicious cycle tourmanting her family.
5.3.1. "Scrawny thirteen-year-old girl" "short" "thin girl with stringy black hair and a timid air" "She couldn't afford textbooks or even pencils, but she was the start pupil in her grade"
5.3.2. Power of Education and Investment on girls' education - moved out of a vicious cycle - change her dynamic, her house, her family, her village
6. MY PERSONAL OPINION
6.1. What I like
6.1.1. Testimonies - stories have more impact than facts, more memorable - Inspiring stories of women who stand up against injustice Photos - Know more about the person they are talking about
6.1.2. Solutions - call for volunteers: list of organizations you can volunteer - what you can do - Four Steps You Can Take in the Next Ten Minutes
6.1.3. Presentation of the information was clear, structured, specific format
6.1.4. Not afraid to criticise = they note mistakes activists make / criticise laws, gouverments, systems...
6.2. What I don't like
6.2.1. Microeconomic chapters...
6.3. - Life changing book - Wonderful resource for information and direction on these issues - For people who wants too help but don't know were/how to start - interested in this topic - Not an easy book -> analyse, process, re-readed
7. MY WORK RESOURCES
7.1. http://www.nytimes.com/column/nicholas-kristof
7.1.1. Dependencies
7.1.2. Milestones
7.2. http://www.halftheskymovement.org/
7.2.1. Schedule
7.2.2. Budget