Final Activity.
by nestor ayala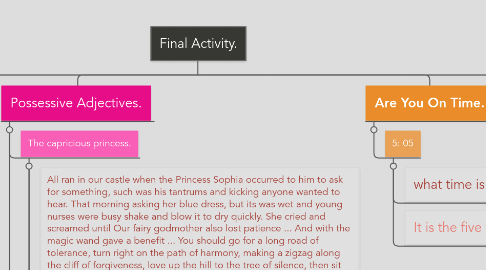 1. What are you doing?
1.1.  Mariajose Alejandra luis nestor they are exercising.
1.1.1.  Lorraine and Paola are playing futboll.
1.1.2.  Josephine and her daughter are studying.
1.2.  Roland and Mario are celebrating.
1.2.1.  Josue is drinking coffee.
1.2.2.  Ramon and Vanessa are playing tennis.
1.3. Josefina is dancing
1.3.1. Employee
1.3.2. Employee
2. Possessive Adjectives.
2.1. The capricious princess.
2.1.1. All ran in our castle when the Princess Sophia occurred to him to ask for something, such was his tantrums and kicking anyone wanted to hear. That morning asking her blue dress, but its was wet and young nurses were busy shake and blow it to dry quickly. She cried and screamed until Our fairy godmother also lost patience ... And with the magic wand gave a benefit ... You should go for a long road of tolerance, turn right on the path of harmony, making a zigzag along the cliff of forgiveness, love up the hill to the tree of silence, then sit one three hours without a word. So the next day the Princess Sophia left ... My long road of tolerance by forest birds with their songs and chants you buzzed my ears, shouted at them to be quiet ... but no one seemed to listen and continued all the time, slowly will not seem so loud and started will tolerate and appreciate melodies, he turned right along the path of harmony, marveled watching the beautiful harmonic places of nature with its flowers, waterfalls and streams. When her arrived at the cliff goats ran a hand and bruised in the stones, let the goats sitting approaching angry thought ... but they were so small that sweet spared.
2.1.2. That yes it was difficult slope love, felt heavy legs and was about to slip several times, half sat on some rocks had not been long when he saw a bird hovering over it ... to look a little further down I saw pigeon among the stones stretching hands picked it up carefully placing it in her nest. The bird chirped and went to feed their young. He felt love for the defenseless. I was very tired when he reached the tree of silence and wanted to scream with joy because he had achieved its purpose ... but forgot I had to do ... words silence broken fell at his feet and his mouth no sound came again. Three hours later her fairy godmother told him that her had served part of his mission ... but could not speak, had failed to silence tree. Months passed and the silence of Sofia continued ... when his dealing with people was different, love, forgive, tolerate, and harmony was his discipline, a morning to get up the words came to her mouth, laughing and crying with joy called his friends to tell them the good news.
2.2. Personal Description.
2.2.1. My name is Nestor, jiquilisco live with my mother and my sisters and our aunts, I have my studies on par with my job, my hobby annoy my sisters, their names are Natalie and Kateryn.
3. There is/ There are.
3.1. What is there in your bedroom?
3.1.1. There is a mirror.
3.1.2. There is TV.
3.2. There is a table.
3.2.1. There are two computers
3.2.2. there is a bed
3.3. There is a closet.
3.3.1. Employee
3.3.2. Employee
4. Where are you from? what is your nationality?
4.1. Germany , German
4.1.1. HE IS FROM GERMANY, HE IS GERMAN, HE SPEAKS GERMAN
4.1.2. HE IS FROM ARGENTINA HE IS ARGENTINEAN HE SPEAKS SPANISH
4.2. HE IS FROM DENMARK HE IS DANISH HE SPEAKS DANISH
4.2.1. HE IS FROM FRANCIA HE IS FRENCH HE SPEAKS FRENCH
4.2.2. HE IS FROM CROATIA HE IS CROATIAN HE SPEAKS CROATIAN
4.3. HE IS FROM CUBA HE IS CUBAN HE SPEAKS CUBAN
4.3.1. HE IS FROM RUSSIA HE IS RUSSIAN HE SPEAKS RUSSIAN
4.3.2. HE IS FROM BULGARIA HE IS BULGARIAN HE SPEAKS BULGARIAN
5. Are You On Time.
5.1. 5: 05
5.1.1. what time is it?
5.1.2. It is the five five
6. Jobs.
6.1. Are you a vet? if i am a veterinarian.
6.1.1. Your brother is a translator? oh if my brother is a translator.
6.1.2. His sister's secretary? if my sister is secretary.
6.2. You're receptionist? if i am receptionist.
6.2.1. You study for a psychiatrist? if eight years studying to be a psychiatrist.
6.2.2. You are a good teacher? of course i'm a good teacher.
6.3. You're a good cop? ohh if i'm a good cop.
6.3.1. Your dad is a pilot? if my father is a pilot.
6.3.2. You study for a journalist? if you study for journalist.