SUMMARY OF ALL ENGLISH CORE ACTIVITIES
by salomon luna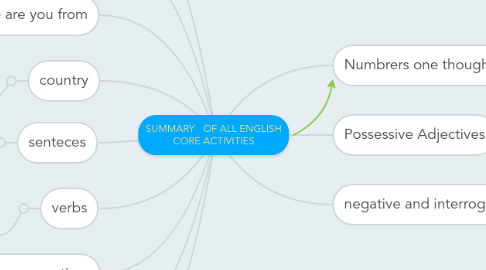 1. Numbrers one though thenty
1.1. Numbers 1 to 20 and helped us to know the numbering saver in Englis.
2. Possessive Adjectives
2.1. Possessive adjectives are of two types: those that are placed before the noun and which are placed after the noun, and helped a lot to know.
3. negative and interrogative sentences
3.1. I help them understand the fracas and its negative question forms and form correct sentences
4. family
4.1. I help them to know our family members and how we are made in our division in the family home
5. city and nationalities
5.1. This helped to write correctly countries and nationalities in English
6. where are you from
6.1. with this we learn to write and identify where we are and our place as this compound
7. country
7.1. we met different name of contries and languages.
8. senteces
8.1. we le arned to formulate a sentece prperly
9. verbs
9.1. with this we learn to know the different verbs and their importance
10. Are you on time
10.1. we knew the right way to tell time
11. personal pronouns
11.1. we met personal pronouns and grammatical application
12. Tobe or not to be
12.1. we know and learn verb being or livig and its forms.