Tipos de registros
by Noelia Sánchez López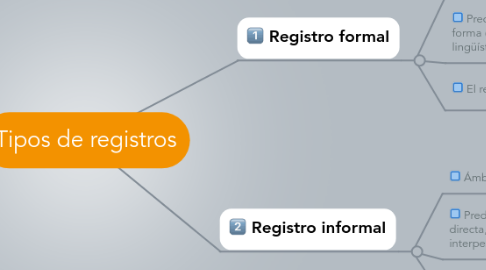 1. Registro formal
1.1. Ámbito especializado
1.1.1. Establish Project Objective
1.1.2. Establish Project Scope
1.1.3. Map Requirements
1.1.4. Map Solution
1.1.5. Map Training Requirement
1.1.6. Review Project Scope
1.2. Predomina la preocupación por seleccionar de forma correcta y adecuada los recursos lingüísticos.
1.2.1. Determine Project Approach, Stages and Steps
1.2.2. Estimate Project Duration
1.2.3. Establish Resource Requirements
1.2.4. Prepare Project Schedule and Budget
1.2.5. Prepare Work breakdown structure
1.2.6. Document Success Criteria
1.2.7. Review Project Schedule
1.3. El registro culto es el más significativo
1.3.1. Identify Project Resources
1.3.2. Recruit Project Steering Committee
1.3.3. Recruit Project Coordinators
1.3.4. Identify / Recruit Key Stakeholders
1.3.5. Determine Training Requirements
1.3.6. Map the Project Organization Chart
1.3.7. Review Project Organization
2. Registro informal
2.1. Ámbito familiar o amistoso
2.1.1. Establish checkpoints
2.1.2. Acquire team resources for stage
2.1.3. Conduct stage kick-off meeting
2.2. Predomina una comunicación directa, espontánea e interpersonal.
2.2.1. Determine Frequency of Meetings
2.2.2. Schedule Meetings
2.2.3. Brief Project Board
2.2.4. Prepare Meetings
2.2.5. Conduct Meetings
2.2.6. Follow-up Meeting
2.3. El registro coloquial es el más significativo
2.3.1. Schedule Quality Review Meeting
2.3.2. Prepare for Quality Review Meeting
2.3.3. Conduct Quality Review Meeting
2.3.4. Follow-up Quality Review Meeting