IAPSS General Assembly
by
IAPSS IAPSS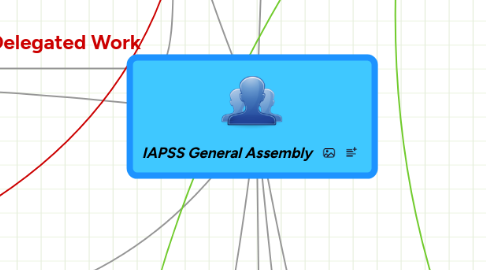 0.0
stars -
0
reviews range from
0
to
5
IAPSS General Assembly
The main decision-making body of IAPSS is the General Assembly (GA). The GA convenes annually and decides on issues of relevance for the existence of the Association and on the long- and medium-term goals of IAPSS. The GA elects all other bodies of the Association: The Executive Committee (ExCom), the Supervisory Committee (SupCom), the Disciplinary Commission, the POLITIKON-IAPSS Journal of Political Science Editorial Board, and the Premium Association Member.
Alumni Club
Alumni Board
Alessio Sanguineti
Eveline Huegli
Raluca TEODOR
Sander Van Haperen
Giulia Pischianz
Tasks
Facilitating Training for IAPSS Contact Persons
Assist IAPSS ExCom
Executive Committee (ExCom)
The ExCom is the body which has the decisional power in between two meetings of the GA. It manages the Association and implements the decisions of the GA. The ExCom, just as all other elected bodies of IAPSS has a one-year mandate. The members of the ExCom are, in principle, residing in Ljubljana, Slovenia, where the Permanent Seat of the IAPSS is located. The ExCom is in charge of the daily work within IAPSS; therefore it coordinates the executive part of IAPSS.
Permanent Seat
Academic Department, Editor in Chief of Politikon, Supervise A different View Magainze Editorial Board
Membership Department, Manage Membership Applications, Collect and Supervise Associations Work Plan, Association Members Work Plan Format, Organize Members Database, Review membership@iapss.org
Treasurer´s Department
General Secretariat, Meetings Minutes, Review info@iapss.org, ExCom Agenda and Schedule
Delegated Work
Excom Members, IAPSS Opportunity Center, Guideline, IAPSS Website, MyIAPSS Intranet, Social Network Services, Facebook, Connect to profile via Facebook, Twitter, Subscription to Scholary Databases, Pay Membership Online, Submit Projects Descriptions, Online Tools : http://civicrm.org/, IPSAPortal, IAPSS Association Members in the World ( Map, Interests,etc), Politikon and ADV Online, e-Newsletter, Register Membership Online, Contact to IAPSS AAC, International Exchanges
IAPSS Liaison Officers, Liaison Institutions, UNESCO, Political Science Associations, Council of Europe, Liaison Policy
Regional Centres, Policy, Regional Officer Format Contract, Regional Centres, Latin American Regional Centre, rcla@iapss.org
AAC Organizers, Annual Academic Conference 2011. Greece
Fundaraising Department, IAPSS Grantmaking Strategy, IAPSS Grantmaking Calendar, IAPSS Fundrasing Team, Contacting Donors
POLITIKON Board
The POLITIKON-IAPSS Political Science Journal Editorial Board coordinates the issuance of the IAPSS Journal. The Editorial Board coordinates its executive work with the ExCom and maintains sole authority on issues related to the content of the Journal. Editorial Board 2010/2011 Editor-in-chief - Urban Jaksa Editors Board - Alexandra Dobra / Diego Garzia / Ozgur Taskaya
Supervisory Committee (SupCom)
The SupCom is the body which supervises the activity of the Association in-between two meetings of the GA. It supervises the work of all other bodies of the Association and reports to the GA.
SupCom Policy
Supcom 2010-2011
Disciplinary Commission (DisCom)
The Disciplinary Commission deals with matters connected to the way the statute is being observed. It decides on sanctions when the statute is not respected.
Disciplinary Rules
IAPSS Operational Plan
Programs, Coordinated with IAPSS Association Members, Coordinated by IAPSS ExCom
Projects, Coordinated with IAPSS Association Members, Coordinated by IAPSS ExCom, Transatlantic Youth Agenda EU-LAC cooperation
Ad Hoc Programs, Coordinated with IAPSS Association Members, Federica E-Learning, IAPSS Open Learning, Political Science in my High School, IAPSS Theme of the Year, Coordinated by IAPSS ExCom
Premium Association
The Premium Association Member is the local association elected for one year to organize the Academic Conference &  General Assembly 2011. Lisbon,Portugal
Academic Conference & General Assembly 2011. Lisbon,Portugal
Strategic Documents
Statute
Internal Regulations
Operational Plan
Strategic Plan
Rules of Procedure
Initiatives Description Format