Student Retention and Promoting Success via Online Learning
by John Snelling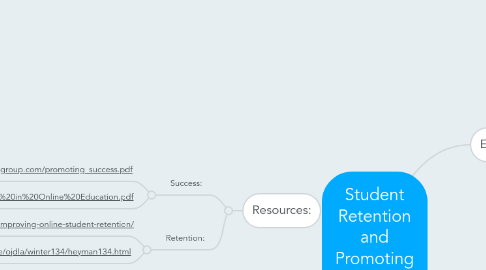 1. Resources:
1.1. Success:
1.1.1. http://kacgroup.com/promoting_success.pdf
1.1.2. http://www.hanoverresearch.com/wp-content/uploads/2013/02/Promoting%20the%20Success%20of%20Underprepared%20Students%20in%20Online%20Education.pdf
1.2. Retention:
1.2.1. http://www.facultyfocus.com/articles/online-education/a-dozen-strategies-for-improving-online-student-retention/
1.2.2. https://www.westga.edu/~distance/ojdla/winter134/heyman134.html
2. Retention:
2.1. Reasons Why Students Leave/Fail
2.2. Ways to Improve
2.3. What's working other places
3. Success:
3.1. Student Readiness
3.1.1. Technical Issues
3.2. Early Detection of Falling Behind
3.3. Balancing Life vs Studies
4. Early Findings:
4.1. Retention:
4.1.1. Some Universities are finding that more teacher involvement in the "class room" setting are leading to students feeling welcomed and valued.
4.1.2. Early detection of students who are not grasping the concept and increased feedback helps the student feel connected and important.
4.2. Success:
4.2.1. Student readiness to understand a specific subject and familiarity with computers and understanding how to navigate successfully online websites plays a huge part of being successful.
4.2.2. Requiring all students, regardless of college level to take (not test out of in any way) a Intro to Online class before allowing further classes to be registered for and taken (thus preventing loss of time/frustration/money).
5. Thesis Statement:
5.1. Universities (offering online classes either alone or in addition to regular classes) and other online learning institutions are seeing a dramatic increase in admissions by students seeking a degree. Those same learning institutions are also seeing a great number of those students failing and subquentley dropping out and not returning to continue their education. What can be learned and applied to all students about the ones that do stay and succeed.