New Directions Project Fall 2010 WRT 305 Lowe "The Effect of the Internet on an adolescent's education; Facebook is it an educational tool or Another distraction?"
by Chris Leman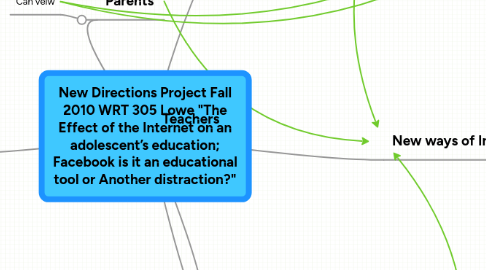 1. Facts About Facebook Usage
1.1. Purpose of Facebook
1.1.1. Back Ground Info
1.2. The demographic of usage
1.2.1. Source 1
2. Parents
2.1. Can veiw
3. Main Questions
3.1. Who Uses Facebook?
3.2. What are they mainly using it for?
3.3. Is it possible to be used Educationally?
3.4. If usage is encouraged by schools, what benifits are there?
3.5. What problems have/will arise?
3.6. With these questions answered, is it plausable for schools to encourage facebook usage between themselves and students?
4. Students
4.1. Homework Distraction
4.1.1. Personal Experience
4.1.2. Created a new platform for bad behavior
4.2. Has easy access to
5. New ways of Interacting
5.1. Links Schools and Students
5.1.1. My Theory
5.1.1.1. Facebook Can Be used Educationally if some key things happen
5.1.1.1.1. Teachers Present themselves Professionally
5.1.1.1.2. Parents Pay attention to Students Online
5.1.1.1.3. Students: Act appropriatly
5.1.1.1.4. School Admistration: Hold the above 3 accountable
6. Teachers
7. Teachers
7.1. Positive Student Interaction
7.1.1. Post Details about upcoming events
7.1.2. Post Homework and reminders
7.2. Concerns about Privacy
7.2.1. Student Interaction Only
7.2.1.1. Content Conciensious
7.2.1.1.1. No Weekend Party photos
7.2.2. Community fears Sexual Preditors