Comfy Dog Days
by Todd Kisicki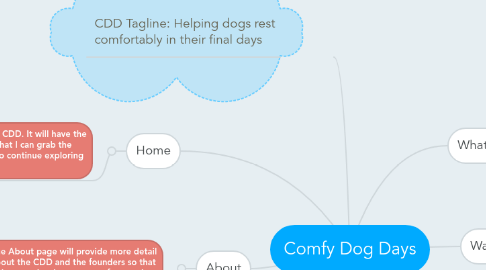 1. Home
1.1. The Home page gives a brief overview of CDD. It will have the most important information included so that I can grab the visitor's attention so that they will want to continue exploring the site.
1.1.1. Video Project: I will build a video or animation that shows older dogs in the shelter and also ones that are now in foster care.
1.1.2. Logo: I will include the CDD logo on all pages of my site
1.1.3. Photo Editing: I will use photo editing to enhance images of various elder dogs on the home page.
2. About
2.1. The About page will provide more detail about the CDD and the founders so that visitors to the site can put a face to the foundation.
2.1.1. Graphic Design/QR Code: I will create a flyer that gives a general overview of CDD. This flyer will also be printed out and taken to local shelters and veterinaries.
3. Contact
3.1. The Contact page will give basic contact information so that visitors to the site can contact CDD with questions they may have.
3.1.1. Strategic Planning Map: I will link this SPM to my contact page.
3.1.2. App prototype: I will create an app prototype that allows users: to submit a dog for foster care consideration, for people to donate, for people to become foster parents for dogs.
4. CDD Tagline: Helping dogs rest comfortably in their final days
5. What We Offer
5.1. The Services page will give a majority of the information about how visitors can help the CDD.
5.1.1. Piktochart: I will create an infographic that displays the services that CDD offers to foster parents and to elder dogs.
5.1.2. Screencast: I will create a screencast that shows visitors to the site how to submit a foster application or how to use the CDD app.
6. Stories
6.1. This page will be a Blog that gives updates on the various pets that are in CDD foster care. Blog posts will include images and videos.
6.1.1. Social Media: I will create a Blog that will share stories of dogs who have been fostered in the final days
7. Ways you can help
7.1. This page will include volunteer and donation information.
7.1.1. Google Form: I will create a Google Form that allows people to submit an application to become a CDD foster parent. I will link to the Google Form from my Services page through the use of a button.