Design and Technologies
by Jenni Doubikin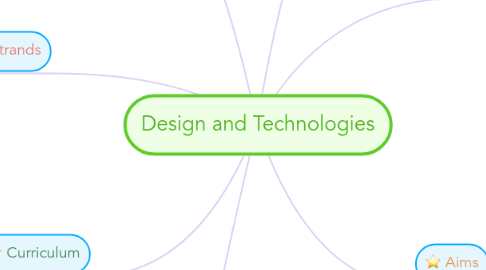 1. Curriculum
1.1. Band Descriptors
1.2. Content Descriptors
1.3. Achievement Standards
2. Strands
2.1. Design and Technologies Knowledge and Understanding
2.1.1. Technologies and society: the use, development and impact of technologies in people's lives.
2.1.2. Technologies contexts: technologies and design across a range of technologies contexts.
2.2. Design and Technologies Processes and Production Skills
2.2.1. Creating designed solutions by: investigating and defining, generating and designing, producing and implementing, evaluating and collaborating and managing.
3. Band Levels
3.1. Foundation - Year 2
3.2. Year 3 - 4
3.3. Year 5 - 6
3.4. Year 7 - 8
3.5. Year 9 -10
4. Cross-curriculum priorities
4.1. Aboriginal and Torres Strait Islander Histories and Cultures
4.2. Asia and Australia's Engagement with Asia
4.3. Sustainability
5. General Capabilities
5.1. Literacy
5.2. Numeracy
5.3. Information and Communication Technology (ICT) Capability
5.4. Critical and Creative Thinking
5.5. Personal and Social Capability
5.6. Ethical Understanding
5.7. Intercultural Understanding
6. Aims
6.1. Students investigate, design, plan, manage, create and evaluate solutions.
6.2. Students are creative, innovative and enterprising when using traditional, contemporary and emerging technologies, and understand how technologies have developed over time.
6.3. Students make informed and ethical decisions about the role, impact and use of technologies in the economy, environment and society for a sustainable future.
6.4. Students engage confidently with and responsibly select and manipulate appropriate technologies − materials, data, systems, components, tools and equipment − when designing and creating solutions.
6.5. Students critique, analyse and evaluate problems, needs or opportunities to identify and create solutions.
7. Key Ideas
7.1. Thinking in Technologies.
7.1.1. Systems Thinking.
7.1.2. Design Thinking.
7.1.3. Computational Thinking.
7.2. Overarching idea: Creating preferred futures.
7.3. Project Management.
7.4. Information and communication technology in the Australian Curriculum.
7.5. Safety.
7.6. Animal Ethics