Technologies
by Lindsey Stabler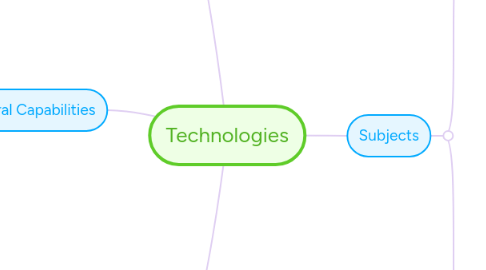 1. Student diversity
1.1. Gifted and talented students
1.2. English as an additional language or dialect
1.3. Students with a disability
2. General Capabilities
2.1. ICT
2.1.1. In Digital Technologies, students develop an understanding of the characteristics of data, digital systems, audiences, procedures and computational thinking.
2.2. Personal & social capability
2.2.1. developing their social awareness. Students develop understanding of diversity by researching and identifying user needs. They consider past and present impacts of decisions on people, communities and environments and develop social responsibility through understanding of, empathy with and respect for others.
2.3. Numeracy
2.3.1. use mathematical knowledge and skills in a range of real-life situations.
2.4. Literacy
2.4.1. Students develop literacy
2.4.2. Students develop literacy of technologies
2.5. Ethical understanding
2.5.1. Evaluate
2.5.2. Safe ethical practices
2.5.3. Rights of others
2.5.4. Roles and responsibilities
2.6. Intercultural understanding
2.6.1. Diverse communities
2.6.2. Past and present
2.7. Critical & creative thinking
2.7.1. Students develop capability in critical and creative thinking as they imagine, generate, develop and critically evaluate ideas
3. Subjects
3.1. Design
3.1.1. strands
3.1.1.1. knowledge & understanding
3.1.1.2. Technologies and society
3.1.1.3. Engineering principles and systems
3.1.1.4. Food and fibre production
3.1.1.5. Material and technology specialisations
3.1.1.6. Processes and production skills
3.1.1.7. Creating solutions by:
3.1.1.7.1. Investigating and defining
3.1.1.7.2. Designing
3.1.1.7.3. Producing and implementing
3.1.1.7.4. Evaluating
3.1.1.7.5. Collaborative & managing
3.1.2. Aims
3.1.2.1. Produce solutions
3.1.2.2. Understand roles and reponsibilities
3.1.3. Key concepts
3.1.3.1. Digital systems
3.1.3.2. Representation of data
3.2. Digital
3.2.1. Strands
3.2.1.1. Knowledge & Understanding
3.2.1.2. Digital systems
3.2.1.3. Representation of data
3.2.1.4. Processes & production skills
3.2.1.4.1. Collecting, managing & analysing data
3.2.1.4.2. Digital implementation
3.2.1.4.3. Creating solutions by:
3.2.2. Aims
3.2.2.1. Use computational thinking and concepts of abstraction
3.2.2.2. Use digital systems to transform data
3.2.2.3. Apply systems thinking
3.2.3. Key concepts
3.2.3.1. Technologies and society
4. Cross curriculum
4.1. Aboriginal & Torres Strait Islander histories and culture
4.1.1. traditional, contemporary and emerging technologies and practices
4.2. Asia & Australia's engagement with Asia
4.2.1. develop knowledge and understanding of technologies processes and production and related cultural, social and ethical issues
4.3. Sustainability