Humans vs. Zombies
by
Peter Concannon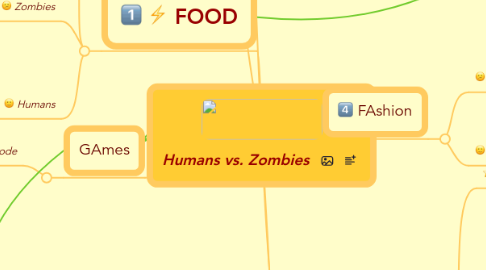 0.0
stars -
0
reviews range from
0
to
5
Humans vs. Zombies
This is just a demo map that you can delete right away, if you feel like it...
TRAVEL
Zombies
Z: Other modes of transport, Detachable limbs to take up less space, No boring conversations about shower rings, No need for dining car/meal on plane
Z: WALKING, Better for Environment, Better for Exercise, Does tend to block roadways (Fires)
Humans
H: CARS, PLANES, Carbon footprint, Laziness, Little danger to other passengers, Rarely leave seats soiled
Human: Flowery
Topics: Love, death, God
Style: Ornate, overdetermined
Z: Direct
Topics: Food, graves
Style: Direct, immediate, simple
Get started!
Use toolbar to add ideas
Key shortcuts
INS to insert (Windows)
TAB to insert (Mac OS)
ENTER to add siblings
DEL to delete
All key shortcuts
Drag & Drop and double-click canvas f ewifiewjf j eif jweijf iwje fijwe ifjweijf iewjf iejwf
Find out more?
Online Help
Use Cases & Templates, Personal Todo List, Vacation Planning, Meeting Minutes, Project Plan, more...
Tools and Gadgets, Offline Mode, Geistesblitz Tools, Email & SMS Gateways, Compare Editions
FOOD
Check out http://www.mindmeister.com/services/tools/geistesblitz_widgets
Zombies
zombies--low cal with athletes
Fresh, on the hoof selection
Culls out the weak or inattentive, making better gene pool for survivors
Humans
too much animal fat
Maat processing plants
FAshion
Z
Flea market fashions
Dry cleaning
H
Forever 21
High cleaning bills
GAmes
New node
New node