Copy of PLE: Paulino Huerta
by
Paulino Huerta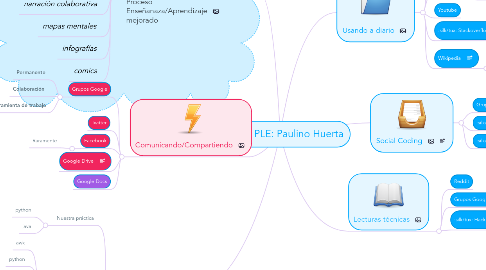 0.0
stars -
0
reviews range from
0
to
5
Social Coding
Use this area to note down the titles / contents of each sitting. You can attach all your notes in the form of a Word document to the respective topic, or you can take all your notes in a new mind map and link to this map from the respective topic.
Grupos Google
Sourceforge
Github
Usando a diario
Slideshare
BSCW
Administrando
Con alumnos
Youtube
Stackoverflow
e.g. "Assessment on the basis of a written final test. Students are expected to study all the texts on the reading list."
Wikipedia
Attach the links to the course's e-learning site and forum, e.g. on Moodle or Blackboard
Permanente
En el aula
Lecturas técnicas
Reddit
Grupos Google
You can attach the whole reader as a file to this topic.
Comunicando/Compartiendo
Grupos Google
Permanente
Colaboración
Herramienta de trabajo
Twitter
Facebook
Raramente
Google Drive
Note down important things you have to do in order to take the exam, e.g.- Signing up for the exam through the online platform- Bringing student ID, black pens, a calculator etc.
Google Docs
Proceso Enseñanaza/Aprendizaje mejorado
wikispaces
edmodo
Blog
rúbricas
narración colaborativa
mapas mentales
infografías
comics
Actualización y deseo de aprender