KFair Vienna 28-30 Sept 2010 Defining the role of the UN in policy advice and implementation
by
Miguel Panadero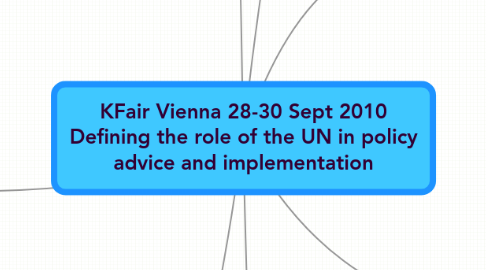 0.0
stars - reviews range from
0
to
5
KFair Vienna 28-30 Sept 2010 Defining the role of the UN in policy advice and implementation
Advocacy and coordination: Strengthen the RC system
Issues
Resident Coordinator has a key role to play to project One UN
Governments like to see the UN as a single entity
Moving forward...
Entry briefing on mandate of agencies, including non resident agencies
Mapping who's doing what to overcome partners/agencies not being aware of the competencies of other agencies
Since RC offices are weak in terms of staff, it is proposed promoting rotation/exchange of staff technical/RC office for a few days per month
Advocacy on IADG and conventions agreed by national authorities while raising to donors national capacities to favour local implementation
Promoting K Fairs and knowledge sharing on the results and lessons learned from projects
Increase effectiveness of the UN system
Issues
Effectiveness requires stable and predictable procedures
Credibility, Reliance on consultants hinders credibility of the UN's capacity, In some cases, reliance on consultants is beneficial to ensure fast turnover response to country requests, Increasing and improving in-house capacity to build up reputation
Moving forward...
UN needs to make clear what agency to approach for what, Example: CEB Thematic brochure on Trade capacity building
Internal business practices at country level must be harmonized, detached from HQ, through greater decentralization and empowerment at the country level
Aligning with global commisions
HQ should foster harmonization of all policies and make better use of technology to facilitate flow of information
Inclusion of non-resident agencies in all planning and consultation processes
Focused on strengthening local competitive advantage of the UN to guide policy / implementation work
Issues
Need to balance acknowledging local capacities and interests with UN mandate and advocacy role
Role of the UN in Middle Income Countries, Policy advice is a much more important role than implementation, Highlight international agenda (MDGs, etc.) but aligned to the needs of the local population
Moving forward...
KM / We should build our capacity to present our knowledge to national counterparts
Consultation with local and government stakeholders to identify competitive advantages. UNDAF processes are a good means where available
Act as a convener and act as a collector
Have an open dialogue with stakeholders about impact/contribution of the UN to achieve country goals
UN system as a catalyzer
Moving forward...
Procedural aspects, Continuation of UNDAF and joint programmes, but enhancing inclusiveness of government counterparts in the process
Substantial aspects, Present or expose its neutral voice on the progress of policy implementation, providing judgement on progress against international benchmarks, On M&E, fostering and making public evaluation and assessment of the policies at the country level, Highlight good policies and practices elsewhere as models
Aligned with needs at country
Issues
Policy advice and implementation is about relationships and long term commitments with host government
Multi-lateral, multi-angle (bottom up and top down) approaches are required
National counterparts should be involved from the begining in implementation
Align planning and policy to local needs
Moving forward...
Assessments are key and must be performed jointly: make CCA as participatory and inclusive as possible, Look into priorities, national and international, Look into capacities
Interventions must be agreed as one
Coordination is essential, keeping one voice
Delivering as One (joint programming) in policy advice and implementation is about a mindset: what we do we must do together
Moving forward...
Relation building exercises (KFairs, retreats, brown-bag lunches...) at personal level
Empowering the RC Office to fund raise from agency budgets
Pragmatically increase collabroation at technical level
Holistic approach at programme level based on issues (fostering task forces, etc.)
Encouraging "transfer" of requests to relevant agencies, tracked by UNDG to reward compliance
Summary of commonly agreed recommendations to enhance positioning of the UN in policy advice and implementation at the country level
Involve stakeholders throughout all stages
Using existing processes (UNDAFs, CCAs, etc.) more effectively and widely. Should not reinvent the wheel.
Agree on targets and monitor them
Knowledge management at the regional level: Highlighting best practice
Strengthen the One UN approach, speaking with one common voice