SOCRATIC DIALOUGE :)
by Beckie De Angelis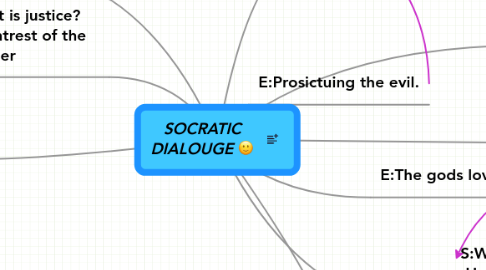 1. S:Holiness is apart of justice.
2. T:What if the ruler makes a bad law? -Actually leads to injustice.
3. S:What does stonger mean?
4. T:What is justice? -The intrest of the stronger
5. S:Which comes first? -Holiness or being loved by the gods?
6. E:The gods love justice.
7. S:The gods disagree.
8. E:What is loved by the gods?
9. S:generic defintion of the concept -Holiness-Piety
10. E:Prosictuing the evil.