But First, Math
by Kacie Blakley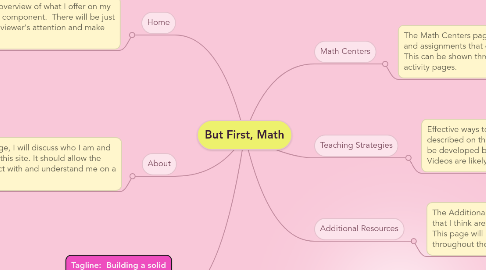 1. Home
1.1. The Home page will contain an overview of what I offer on my website and how to access each component. There will be just enough information to grab the viewer's attention and make them want to read more.
1.1.1. Logo: My logo will be included on the top of all pages of my site.
1.1.2. Screencast: I will make a screencast video that covers the main sections of my site. Putting it on the Home page allows viewers to easily see where everything is located as soon as they come on to my site.
2. About
2.1. On the About page, I will discuss who I am and why I am making this site. It should allow the viewers to connect with and understand me on a deeper level.
2.1.1. Infographic: I will create a piktochart that shows the importance of math in early childhood. It will include statistics and elements of proper math education.
2.1.2. Graphic Design/QR Code: A handout will be made for parents and colleagues to get a glimpse of my website. The QR code will be pictured on the page that gives quick access to my site simply by scanning it with a cell phone.
2.1.3. Strategic Planning Map: This mind map will be linked on the About page.
3. Math Centers
3.1. The Math Centers page will list different activities and assignments that can be used in center time. This can be shown through images and links to activity pages.
3.1.1. Digital Photo Editing: Photos of math center topics will be edited to enhance visual appeal. Some pictures might include unique objects or tools that can be used in different activities.
3.1.2. Google Form: I will make a survey using Google Forms to determine which math center viewers enjoyed the most. Criteria will be based on creativity and quality of learning involved in each center.
4. Teaching Strategies
4.1. Effective ways to teach math lessons to first graders will be described on the Teaching Strategies page. Some of them will be developed by myself and others will be research-based. Videos are likely to be used here.
4.1.1. Video: I will make a video showing one of my teaching strategies for first grade math.
5. Additional Resources
5.1. The Additional Resources page will list other outside websites that I think are profitable in making lessons for first grade math. This page will also include a link to my additional sources made throughout the course.
5.1.1. Social Media: A Facebook page will be created for my website that I will post additional information on.
5.1.2. App Prototype: I will build an app that can be used to practice math facts. Parents can download it for their children to use at home.
6. Tagline: Building a solid math foundation in first grade