My New Mind Map
by Katelyn Dauer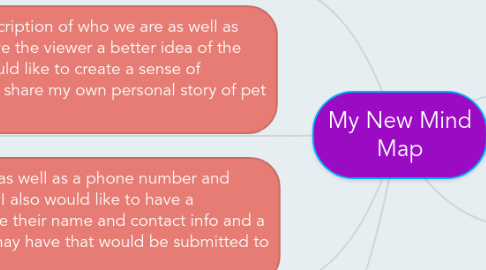 1. Home
2. The home button will be our main page. It will have photos and a quote that represents us. It will also have our name in a larger font so that it is very noticeable.
2.1. Digital Photo Editing and Logos- create a logo for the site and some digital photo editing to enhance images.
3. About Us
4. The About Us page will give a description of who we are as well as our mission statement. This will give the viewer a better idea of the type of company we are. I also would like to create a sense of family/belonging so I would like to share my own personal story of pet adoption.
4.1. Infographics are representations of information, data or knowledge intended to present information quickly and clearly.
5. Contact
6. Our contact option will list our address as well as a phone number and email address to get in contact with us. I also would like to have a pre'made section where they could write their name and contact info and a short description of the question they may have that would be submitted to us.
6.1. Google Forms can be used to collect information from people. They can be used as a survey tool, registration form, homework submission, and much more.
7. Tagline: To show awareness to how important pet adoption is vs. buying puppies (educational)