Rhi's Rec
by rhiannon gouso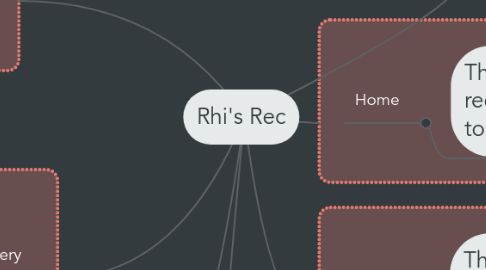 1. Home
1.1. The home page will introduce the idea of the recreation center. It will have pictures that relate to the concept of the business.
1.1.1. Pixlr: I will use photo editing to create the buisness logo
2. Contact
2.1. The contact page will be for clients interested in registering their child for the recreation center. Basic contact information such as email and work number will be listed
2.1.1. Canva Design: I will create a business card listing Rhi's Rec"s location, e-mails, as well as the companies mail contact phone number
3. About
3.1. The about page will give a detailed description of Rhi's Rec's mission statement as well as a description of each staff member and why they have been personally selected to be apart of Rhi's Rec's team.
3.1.1. Screen-casting: I will make a screen-cast of the main purpose and different activities/classes offered at Rhi's Rec.
4. Gallery
4.1. The gallery page will be a page that parents or guardianes can go to look at events or classes that their child took apart of.
4.1.1. Social Media: I am going to create a facebook page for Rhi"s Rec so the Rec will be able to keep members up to date on important events as well as be able to enjoy pictures of their children.
5. Registration
5.1. The registration page will be for new members to sign up.
5.1.1. Google forms: I will use google forms to keep track of information from clients such as names, phone numbers, ect.
6. What Rhi's Rec offers
6.1. This page will have a categorized list of events and activities as well as time and dates of the activities that Rhi's Rec is offering for the current month.
6.1.1. Infograph: I will use this to share information on what activities/events Rhi's Rec is offering.
7. Tagline: A Recreational center for individuals with disabilities the focuses of teaching life skills.