Effect of dioctyl phthalate modified matrix on the termal stability of glass fiber reinforced composite
by Ivan Valderrama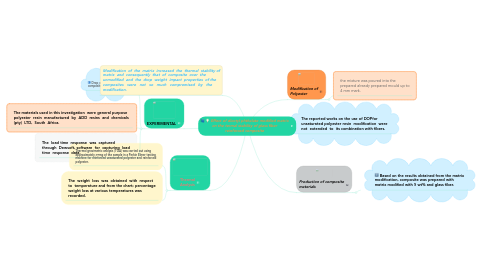 1. Modification of Polyester
1.1. the mixture was poured into the prepared already prepared mould up to 4 mm mark.
2. EXPERIMENTAL
2.1. Drop weight analysis of composite
2.2. The materials used in this investigation were general purpose polyester resin manufactured by ADD resins and chemicals (pty) LTD, South Africa.
2.3. The load time response was captured through Dewsoft, software for capturing load time response data.
3. Thermal Analysis
3.1. Thermal gravimetric analysis (TGA) was carried out using approximately 25mg of the sample in a Perkin Elmer testing machine for reinforced unsaturated polyester and reinforced polyester.
3.2. The weight loss was obtained with respect to temperature and from the chart; percentage weight loss at various temperatures was recorded.
4. Production of composite materials
4.1. Based on the results obtained from the matrix modification, composite was prepared with matrix modified with 5 wt% and glass fiber.
5. Modification of the matrix increased the thermal stability of matrix and consequently that of composite over the unmodified and the drop weight impact properties of the composites were not so much compromised by the modification.
6. The reported works on the use of DOPfor unsaturated polyester resin modification were not extended to its combination with fibers.