Effect of dioctyl phtalate (DOP) modified matrix on the thermal stability of glass fiber reinforced composite.
by oscar castro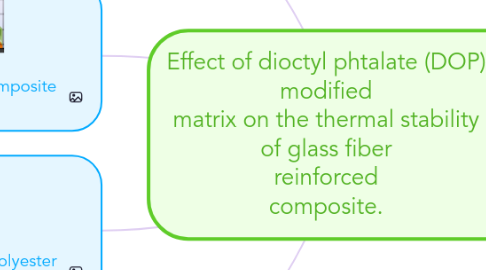 1. Thermal Analysis
1.1. 25 ml sample of polyester modified is heated 10ºC/min from 30 ºC to 900ºC
2. Modification of the polyester Investigation Unsaturated
2.1. 150ml of unsaturated solution of polyester
2.2. 2%wt methyl ethyl ketone is added and 2%wt cobalt accelerator is added
3. Production of composite materials
3.1. coposite prepared with matrix modified
3.2. results compared
3.3. mould convered and transferred to a carver lab
4. Polymers applications.
4.1. Polymers applications.
4.1.1. aerospace, defence,transportation
4.2. Polymers applications.
4.2.1. aerospace, defence,transportation