ePals by Marjorie Rothman
by Marjorie Rothman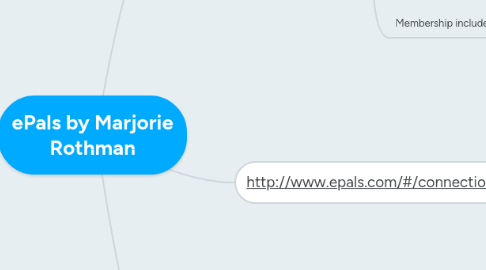 1. ePals Defined
1.1. An education technology company
1.2. Safe social learning networks provider
1.3. Provides collaborative educational opportunities for all those involved in K-12 learning, including: school administrators, teachers, parents and students.
1.4. Millions of teachers and students participate from around 200 countries and territories around the world.
1.4.1. Participating students attend public schools, private schools and home school.
1.4.2. The range of age of students is pre-school through college age.
1.4.2.1. This sounds great! I love that it can be used for any age group. How exactly do teachers set it up in their classroom though? I love the thought of a global classroom! - Phyllis Cammiso
1.4.2.1.1. My understanding is that the teachers set this up through their districts. M. Rothman
1.4.3. Participating students speak 136 languages.
1.5. Membership in ePals Global Community is free
1.5.1. Adult participants go through a verification process through their school district before they are able to join.
1.5.2. Membership includes: ePals' monitored e-mail; collaborative workspace tools
1.5.2.1. IT's great that ePals monitors emails. Can teachers monitor students' conversations as well? -Dr. Fritz
1.6. Membership includes...
1.6.1. ePals' monitored e-mail
1.6.2. Collaborative tools for the classroom and project workspaces
1.6.3. Project Library access of more than 70 collaborative projects
1.6.4. Student Learning Centers access
1.6.5. Common Core Implementation Center access
2. http://www.epals.com/#/connection
3. ePals webpage described
3.1. Contains links to...
3.1.1. Sign up
3.1.2. Login
3.1.3. Find Connections
3.1.3.1. Includes filters for country, age range, language(s) spoken, average class size, subjects, interests, grades taught and specializations.
3.1.4. Explore Experiences
3.1.4.1. Provides 9 opportunities for students, within set age ranges, to connect and discuss issues, play games, share recipes, practice foreign language skills and more.
3.1.4.1.1. I really like the idea of practicing foreign language skills. Doing this through interaction with a peer is more likely to leave an impression over memorizing vocabulary in a language class. W. Kerr
3.1.4.1.2. I love opportunities for sharing and collaboration. It sounds like this tool offers a great way for students to connect and learn together. Andrea Santella
3.1.5. Start Collaborating
3.1.5.1. This links to Explore Experiences
3.1.6. Explore Challenges
3.1.6.1. Provides young inventor challenge opportunity and links to previous folklore learning opportunities.
3.1.7. Meet Our Ambassadors
3.1.7.1. This is a short video featuring ePal ambassadors
3.1.8. Privacy Policy
3.1.9. Terms of Use
3.1.10. Support