Course Syllabus: L'ensenyament de l'anglès a l'educació secundària II
by maria jose reverte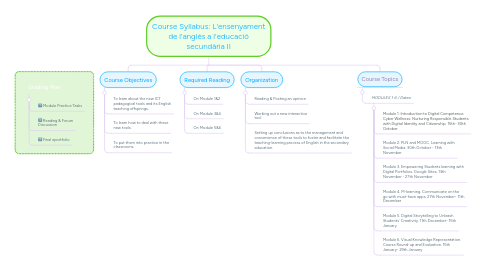 1. Course Topics
1.1. MODULES 1-6 / Dates:
1.1.1. Module 1. Introduction to Digital Competence. Cyber Wellness: Nurturing Responsible Students with Digital Identity and Citizenship. 15th- 30th October
1.1.2. Module 2. PLN and MOOC. Learning with Social Media. 30th October - 13th November
1.1.3. Module 3. Empowering Students learning with Digital Portfolios. Google Sites. 13th November - 27th November
1.1.4. Module 4. M-learning. Communicate on the go with must-have apps. 27th November- 11th December
1.1.5. Module 5. Digital Storytelling to Unleash Students' Creativity. 11th December- 15th January
1.1.6. Module 6. Visual Knowledge Representation. Course Round-up and Evaluation. 15th January- 29th January
2. Organization
2.1. Reading & Posting an opinion
2.2. Working out a new interactive tool
2.3. Setting up conclusions as to the management and convenience of these tools to foster and facilitate the teaching-learning process of English in the secondary education.
3. Required Reading
3.1. On Module 1&2
3.2. On Module 3&4
3.3. On Module 5&6
4. Course Objectives
4.1. To learn about the new ICT pedagogical tools and its English teaching offsprings.
4.2. To learn how to deal with these new tools.
4.3. To put them into practice in the classrooms.
5. Grading Plan
5.1. Module Practice Tasks
5.2. Reading & Forum Discussion
5.3. Final eportfolio