Are You Kitten Me Right Meow
by Samie Soisson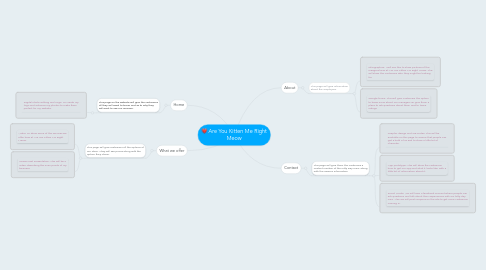 1. Home
1.1. This page on the website will give the customers all they will need to know, and as to why they will want to use our services.
1.1.1. Digital Photo Editing and Logo: To create my logo and enhance my photos to make them perfect for my website.
2. About
2.1. This page will give information about the employers.
2.1.1. Inforgraphics: I will use this to show pictures of the mangers here at Are You Kitten Me Right Meow. This will show the customers who they might be looking for.
2.1.2. Google forms: This will give customers the option to know more about our managers an give them a place to ask questions about them and/or leave ratings.
3. Contact
3.1. This page will give them the customers a contact number of the Kitty Day Care, along with the owners information.
3.1.1. Graphic design and QR codes: This will be available on this page to ensure that people can get a hold of us and to show a little bit of character.
3.1.2. App prototype: This will show the customers how to get our app and what it looks like, with a little bit of information about it.
3.1.3. Social Media: We will have a facebook account where people can ask questions and talk about their experiences with our kitty day care. Also we will post coupons on the site to get more customers coming in.
4. What we offer
4.1. This page will give customers all the options of our store. They will see prices along with the option they chose.
4.1.1. Video: To show some of the services we offer here at Are You Kitten Me Right Meow.
4.1.2. Screen cast Presentation: This will be a video describing the main points of my business.