Raising Hale
by Sydney Hale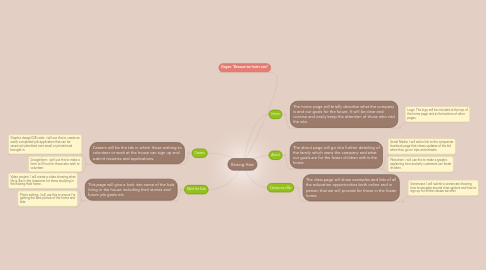 1. Slogan: "Because we foster care"
2. Home
2.1. The home page will briefly describe what the company is and our goals for the future. It will be clear and concise and easily keep the attention of those who visit the site.
2.1.1. Logo: The logo will be included at the top of the home page and at the bottom of other pages.
3. About
3.1. The about page will go into further detailing of the family which owns the company and what our goals are for the foster children within the home.
3.1.1. Social Media: I will add a link to the companies facebook page that shows updates of the kid when they go on trips and retreats.
3.1.2. Piktochart: i will use this to make a graphic explaining how and why customers can foster children.
4. Careers
4.1. Careers will be the tab in which those wishing to volunteer or work at the house can sign up and submit resumes and applications.
4.1.1. Graphic design/QR code: i will use this to create an easily completed job application that can be saved ad submitted over email or printed and brought in.
4.1.2. Googleform: i will use this to make a form to fill out for those who wish to volunteer.
5. Meet the Kids
5.1. This page will give a look into some of the kids living in the house including their stories and future job goals etc.
5.1.1. Video project: I will create a video showing what life is like in the classroom for those studying in the Raising Hale home.
5.1.2. Photo editing: I will use this to ensure I'm getting the best picture of the home and kids.
6. Classes we offer
6.1. The class page will show examples and lists of all the education opportunities both online and in person that we will provide for those in the foster home.
6.1.1. Screencast: I will submit a screencast showing how to navigate around class options and how to sign up for online classes we offer