Life With Molly
by Molly Medaille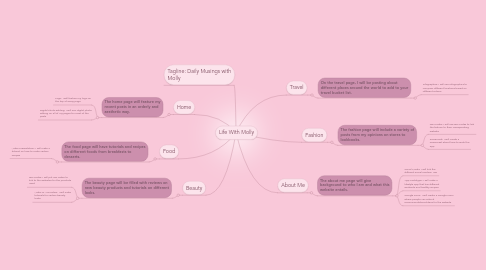 1. Home
1.1. The home page will feature my recent posts in an orderly and aesthetic way.
1.1.1. Logo: I will feature my logo on the top of every page
1.1.2. Digital Photo Editing: I will use digital photo editing on all of my pages for most of the posts
2. Food
2.1. The food page will have tutorials and recipes on different foods from breakfasts to desserts.
2.1.1. Video Presentation: I will make a tutorial on how to make certain recipes
3. Beauty
3.1. The beauty page will be filled with reviews on new beauty products and tutorials on different looks.
3.1.1. QR Codes: I will put QR codes to link to the websites for the products used.
3.1.2. Video or Animation: I will make tutorials for certain beauty looks
4. About Me
4.1. The about me page will give background to who I am and what this website entails.
4.1.1. Social Media: I will link the different social medias I use
4.1.2. App Prototype: I will make a lifestyle app that has different workouts and healthy recipes
4.1.3. Google Form: I will create a Google Form where people can submit recommendations/ideas for the website
5. Fashion
5.1. The fashion page will include a variety of posts from my opinions on stores to lookbooks.
5.1.1. QR Codes: I will use QR Codes to link the fashion to their coresponding website
5.1.2. Screencast: I will create a screencast about how to work the app
6. Tagline: Daily Musings with Molly
7. Travel
7.1. On the travel page, I will be posting about different places around the world to add to your travel bucket list.
7.1.1. Infographics: I will use infographics to compare different locations based on different criteria