ETCV 530 Multimedia Applications in Multimedia
by Keith Fowler Sensing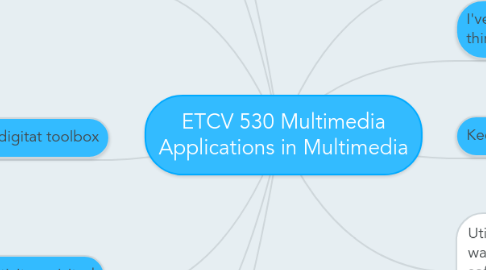 1. Class Participation
1.1. Introduction forum
1.1.1. Posted Introduction and little known fact.
2. I've been thinking
2.1. Moderated topic on Making Engaging Learning
3. Keeping Current
3.1. Reeder and feed
3.1.1. Reader used: Feedly, Topics: eLearning Industry, Gamification Research Network and Instructional Tech Talk
3.2. My Feedly RSS feeds have now expanded exponentially and I read them now on a daily basis.
4. Encouraging Creativity
4.1. Encouraging Creativity Lesson Idea Dropbox
4.1.1. Intro to electronics project
5. Expressing Information
5.1. Expressing Information Reflection Dropbox
5.1.1. Timeline of Recorded Music Infographic
5.2. I enjoy creating infographic and find it a entertaining and engaging way to present information.
6. Protecting your digital tatoo
6.1. Protecting your Digital Tattoo - Resource Reviews
6.1.1. https://blogs.mcafee.com/consumer/15-tips-to-better-password-security/ https://owl.english.purdue.edu/owl/resource/589/03/ http://www.makeuseof.com/tag/7-netiquette-guidelines-writing-emails-forum-posts/
6.2. Protecting your Digital Tattoo - Policies
6.2.1. Created password and IT school policy
6.3. I have written policies before and find it tedious work but it will never go away, so it is an unnecessary evil.
7. Your digitat toolbox
7.1. Digital Toolbox Dropbox
7.1.1. 1. Review SMART Board 8071i
7.1.2. 2. Review Raspberry PI
7.1.3. 3. Review Adobe Creative Cloud
7.1.4. 4. Review Adobe Captivate
7.1.5. Alway fun researching new tech and apps for your digital toolbox.
8. Creativity revisited
8.1. Creativity Revisited Dropbox
8.1.1. Bill of Right Activity
8.1.2. First time writing a detailed lesson plan.
9. Final Reflection
9.1. Dropbox for Final Reflection
9.1.1. The PBL and Creativity revisited related to products created at my place of employment. It helped me relate to Common Core and 21st Century Skill concepts.
10. Both Encouraging Creativity and Creativity revisited significant in helping me understand sound educational concepts. See final reflection.
11. Utilization of forms is one of the best way for community feedback. Most software companies will use forms for trouble shooting. If you want answers check out a form.