Element 6: Identifying Critical Information
by Lacie Eades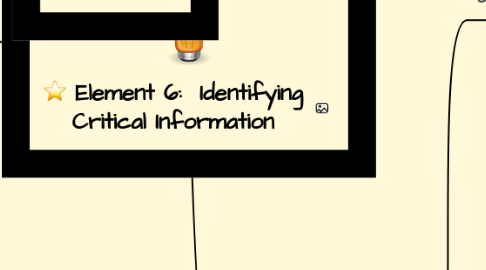 1. Introduction
1.1. This element deals with the crucial timing of the instructor alerting the students of the emergence of new and important material. This material is what is most critical to the students' mastery of the learning goal.
2. 3 Strategies
2.1. 1. Identifying critical-input experiences
2.1.1. Information About This Strategy
2.1.1.1. Singling out critical-input experiences provides focus for students and the teacher
2.1.1.2. Should only be 2-3 critical-input experiences per learning goal
2.1.2. Technology Enhancement
2.1.2.1. Students can use technology to rate their understanding of critical information using a scale. Polling technology, such as Survey Monkey or Poll Everywhere, can be used to accomplish this task.
2.1.3. Implementation Tips for Using This Strategy
2.1.3.1. Establish a multi-sensory routine to notify students when they are going to experience information that is critical to achieving the learning goal
2.2. 2. Visual activities
2.2.1. Important Information About This Strategy
2.2.1.1. Visual cues can highlight important information for students.
2.2.1.2. Visual clues supplement auditory cues provided by the teacher.
2.2.1.3. Student engagement and understanding is increased when students' visual and auditory senses are stimulated.
2.2.2. Technology Enhancement
2.2.2.1. Video cues
2.2.2.2. Image cues
2.2.2.3. Hidden or partially concealed diagrams or pieces of complex text in digital presentations to help students process chunks of information
2.2.3. Implementation Tips for Using This Strategy
2.2.3.1. Use font and color cues within Prezi or PowerPoint presentations to highlight important information
2.2.3.2. Hide important pieces of information beneath visual prompts in digital presentations to encourage students to make predictions about new information
2.3. 3. Pause time
2.3.1. Important Information About This Strategy
2.3.1.1. Used at key points during an introduction to new content
2.3.2. Technology Enhancement
2.3.2.1. Use a countdown timer to allow time for student reflection at critical points in the lesson
2.3.3. Implementation Tips for Using This Strategy
2.3.3.1. 1. Pause 2. Indicate important parts 3. Allow students time to relfect