THE FOUNDATION STONES.
by Yenia Garduño Juarez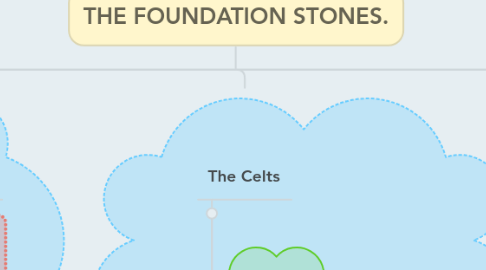 1. The Island
1.1. Britain is a island, and Britain's history has been closely connected with the sea.
1.2. Its strong national sense have been shaped by the sea.
2. Britain's prehistory
2.1. Our first evidence of human life is a few stone tools, (about 250,000 BC).
2.2. About 5000 BC Britain had finally become an island.
3. The Celts
3.1. Around 700BC.
3.2. Came from central Europe or further east, from southern Russia.
3.3. They are the ancestors of many of the people in Highland Scotland, Wales, Ireland and Cornwall.
3.4. Organised into differents tribes.
4. The Romans
4.1. Brought the skills of reading and writing to Britain.
4.2. Considered the Celts as war-mad, "High spirited and quick for battle".
4.3. Roman control of Britain came to an end as the empire began to collapse.
5. Roman Life
5.1. There were three different kinds of tawn in Roman Britain:
5.1.1. Coloniae
5.1.2. Municipia
5.1.3. Civitas, included the old Celtic tribal capitals.