SEO Basics: Getting Found In Local Search
by Ryan McInerney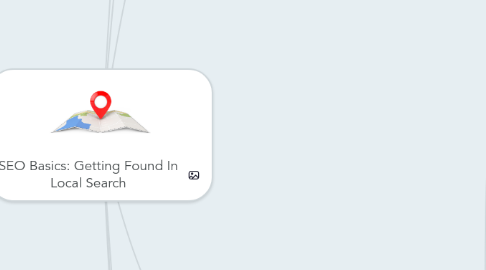 1. Tools
1.1. Moz Local https://moz.com/local/overview
1.2. Yext http://www.yext.com/
1.3. Google My Business https://www.google.com/business/
2. Not Optimized Yet?
2.1. Affected?
2.1.1. Logout of your browser and Google or Bing accounts.
2.1.2. Enter incognito mode.
2.1.3. Search for key terms you want to be discovered for.
2.1.3.1. Company Name
2.1.3.2. Company Industry "Payroll Service Providers"
2.1.3.3. Company Industry/Name w/ City or "Near Me"
3. Why this matters
3.1. Every searcher wants to find information that is relevant to them. When looking for a service provider or a restaurant, we want someone local more than 50% of the time.
3.2. Enterprises that are local to a prospect have a key advantage over someone positioned further away.
3.2.1. Fewer obstacles perceived
3.2.2. Similar mentalities
3.2.3. Opportunity to see = confidence
3.3. Page 1 results!
3.3.1. Harder to get on Page 1 for website
3.3.2. Page 1 on Local Results = Offsite SEO for Website from SERP
3.3.2.1. Off-Page SEO
3.3.2.1.1. Keywords
3.3.2.1.2. Qualifiers
3.3.2.1.3. More Data on Business
4. Review and Recap
4.1. We care about the end user. Mobile Search optimization simply means giving mobile users an experience catered to their needs, not penalize them for choosing the wrong browser or device.
4.2. Google's "Mobilegedeon" Algorithm change (April 2015), to elevate mobile friendly sites and penalize non-mobile "friendly"sites. Bigger impact than Panda or Penguin.
4.2.1. We work hard to build content and experiences that gain traffic, subscribers, shares.
4.2.2. We want to out-rank our slower competitors
4.2.3. Being mobile optimized ensures we continue to gain traffic and never loose it.
4.3. Link to Recorded Presentation: http://techshep.net
5. Coming up
5.1. 2/24 12:00 EST Art of SEO: Optimizing for Video Search
6. What is Local Search Optimization
6.1. Local Search Engine Optimization is the enabling of search engines to match user inquiries with businesses that can meet their needs within their local area.
6.1.1. Google
6.1.1.1. City Specific Barber
6.1.1.1.1. Location Specific Barber
6.1.2. Bing
6.1.2.1. City Specific Barber
6.1.2.1.1. Location Specific Barber
7. Mobile Optimization Options
7.1. Getting Listing Sorted Out
7.1.1. Business Name
7.1.1.1. Use an accurate and the same business name that you use on your website and other online business profiles.
7.1.2. Address
7.1.2.1. Your address is part of the "key" that the search engines use to identify your business and to ensure that the address "maps accurately" in the search engines.
7.1.3. Phone Number
7.1.3.1. Use a unique local phone number. Avoid 800 and tracking numbers. Your main phone number is part of the "key" the engines uses to cross-reference information about your business.
7.1.4. Website
7.1.4.1. For a business with a single location, your website is your home page. For businesses with multiple locations, have separate pages for each location. Having a website is a strong ranking factor and can be a strong factor in converting searchers to customers.
7.1.5. Description
7.1.5.1. Google provides a description field that allows 4,000 plus characters. Provide a well-written, unique description of your business. It is important to accurately describe your service, product, and locations for users even though Google states that it no longer relies upon the description for ranking purposes.
7.1.6. Categories
7.1.6.1. One category selection must be made from the search engines' standard set of categories. If you use your own categories, follow the search engine quality guidelines and list categories that describe what the business is. Don't attempt to jam keywords into your categories.
7.2. Updating Website
7.2.1. If your company has multiple locations, create a separate profile web page on your site for each location.
7.2.2. Have your page title, <h1> tags, and content include the business name, the type of business, and the location.
7.2.3. The home page and /or Contact Use page should have the main location's basic listing information displayed in the HTML text. Schema.org Organization or LocalBusiness format or the hCard microformat.
7.2.4. Place differentiating information on each store's page. Be sure to include specifics about the physical location.
7.2.5. Centroid (the location that the search engine defines as the center of the city) is being replaced by business/ searcher distance as a ranking factor, as the distance of a business from a searcher is more significant.
7.2.6. Proximity works the same way for zip codes. Zip code searches aren't commonly performed in the U.S.
7.2.7. Do not attempt to set up multiple user accounts to rate yourself well or reduce your competition's ratings. Do not pay customers for reviews, just ask people to rate you. You might be able to drive up the positive reviews which bring rankings benefits.
7.2.8. Monitor your online ratings in various sites as part of good reputation management and try to respond to complaints/issues as quickly as possible.
7.2.9. Links from local directories and other locally relevant sites are increasingly important ranking factors and should be obtained when relevant.