DO VS MAKE
by PAOLA SANDOVAL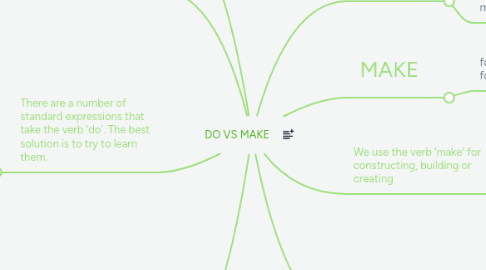 1. DO
1.1. Use DO for actions, obligations, and repetitive tasks.
2. MAKE
2.1. make a reservation
2.2. make a salad
2.3. make a sandwich
3. MAKE
3.1. for creating or producing something, and for actions you choose to do.
4. HOUSEWORK
4.1. do the laundry
4.1.1. do the housework
4.2. do the dishes
5. There are a number of standard expressions that take the verb 'do'. The best solution is to try to learn them.
5.1. do badly
5.2. do business
5.3. do the dishes
5.4. do a favour
5.5. do good
5.6. do harm
5.7. do well
6. We use the verb 'make' for constructing, building or creating
6.1. make a dress
6.2. make food
6.3. make a cup of tea / coffee
7. EXAMPLES
7.1. I have to do some work on an extra project.
7.2. We do business with clients in fifteen countries.
7.3. I'm doing the best I can!
7.4. She has to do the housework.
8. EXAMPLES
8.1. She has to make breakfast
8.2. She has to make a cake
8.3. She has to make sure that the house is in order.