Assessment (Edited) includes: Assessing / Recording / Reporting
by Angie Pot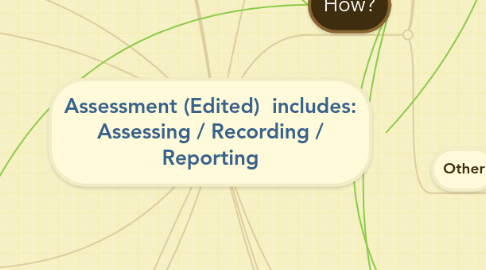 1. Allows for self-reflection and ownership of acquired knowledge
2. What?
2.1. Testing for prior knowledge?
2.2. Testing for knowledge acquisition throughout UoI?
2.3. Testing for cumulative progress?
2.4. Skills
2.4.1. Improvement in fine motor skills?
2.4.2. Cognative development?
3. When?
3.1. At the beginning of UoI ?
3.2. Periodically throughout the UoI ?
3.3. At the end of UoI ?
4. How?
4.1. Verbal
4.1.1. Open discussion
4.1.2. Class presentation
4.1.3. Expressed observations
4.2. Written
4.2.1. Assessment worksheets
4.2.2. Story Writing
4.2.3. Parent assisted written work
4.3. Other
4.3.1. Games targeted for further practice of specific skills
4.3.2. Making inferences based on stories, film and audio
4.3.3. Art activities based on specific themes
4.3.4. Options for information gathering
4.3.4.1. Providing options and allowing for individual choice to complete task
5. Summative Assessment
6. Formative Assessment
7. Evaluation should consider: growing student's inquiry / integration of knowledge / mastery of skills / a growing knowledge base / independent and collaborative work by students
8. Evidence of learning shows in the classroom, eg: student work, evidence of understanding and thinking, reflection of own learning.
9. Assessment can serve as a guide for future teaching and a comprehensive overview of the school program.
10. Imperative tool for all stake-holders: student s, teachers, parents and school. A valuable tool to be perceived positively by all involved. Can be done in a variety of ways (taking into consideration individual learning styles). Serves as a tool for helping to identify student interests, thinking process and extending student's learning.
11. TOOLS
11.1. RUBRICS
11.2. EXAMPLARS
11.3. CHECKLISTS
11.4. RECORDS
11.5. CONTINUUMS
12. STRATEGIES
12.1. OBSERVATIONS
12.2. PERFORMANCE ASSESSMENTS
12.3. PROCESS-FOCUSED ASSESSMENTS
12.4. OPEN-ENDED TASKS
13. inter-connected