PRESENTER PROCESS 2016
by Nabeel Kassam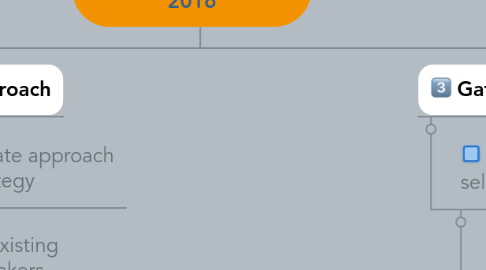 1. Research/Selection
1.1. Objective: How can we double the number of active partners we had in 2015 and the create the ultimate partner program that results in a huge number of partners returning each year
1.1.1. What is the #1 thing you want?
1.1.2. What partners like best about partnership with Wbecs last year?
1.1.3. Do partners see any opportunity so that we can be more service to them?
1.2. Nomination list
1.2.1. Make list of speakers to choose
1.2.2. Who haven't we spoken to before?
1.2.2.1. Invite to partner
1.2.2.1.1. Create script
1.2.3. Which headliners are in the list?
1.2.3.1. Invite to speak
1.2.3.1.1. Create invite email
1.3. 10 Headliners
1.3.1. Gather contact details of top companies and the conference board to get more
1.3.2. Create a speaker document that motivates them to join
1.4. Make a list of 25 previous years speakers
2. Approach
2.1. Create approach strategy
2.2. Existing Speakers
2.2.1. Proof existing email and send
2.2.2. Create follow up procedure
2.3. New Speaker/Headliners
2.3.1. Hannah to create a new email
2.3.1.1. Details required - name, topic, preferred time and how many followers do you have
2.3.2. Book meeting with Ben
2.4. Nominated Speaker
2.4.1. Nina to create database of emails of nominated speakers
2.4.2. Book meeting with JM/LS for speakers
3. Gathering Info
3.1. Confirm to be selected
3.1.1. Send appointment link and recent Wbecs news etc. Ask for bio and headshot
3.1.1.1. Receive updated Google doc
3.1.1.1.1. Nina to check Google docs. Note what needs to be completed. What is missing
3.1.1.2. Follow up by March 8, deadline March 10
4. 4. Speaker Nurture
4.1. Sending short emails including: 1-2 exciting facts, big people confirming, # speakers, big companies. Research head of companies etc
4.2. Setup Wbecs email address and laison with speakers/assistants continuosly
4.2.1. Set up and send out from "[email protected]"
4.2.1.1. Keep track of guests of speakers
4.2.1.2. Reminder email day before speaker presents
4.2.1.3. We give them a trail and site preview on April 10th and mailing schedule
4.2.1.4. Send after Summit "Thank You" emails
4.3. Offer access to our marketing/graphic designers to increase visibility of their talk
4.4. The speakers should be promoting from April 10th
4.5. Up until June 13 Summit - send them regular updates/keep them excited. e.g. i) Tips how to present ii) how to make their sessions better iii) top 10 tips for speaking at WBECS