Ana M. Ritter
by
Ana Ritter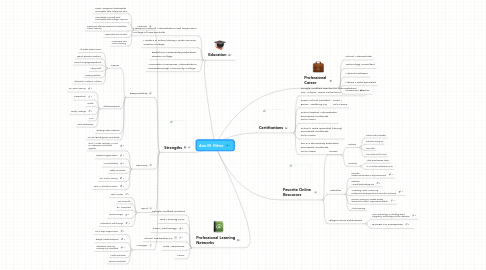 0.0
stars - reviews range from
0
to
5
Education
Master's in School Administration and Supervision College of New Rochelle
Master's in School Library Media Services Queens College
Bachelor's in Elementary Education Queens College
Associate's in Business Administration Queensborough Community College
Professional Career
School Administrator
Technology Consultant
Adjunct Professor
Library Media Specialist
Classroom Teacher
Strengths
Copyright © 2000 The Gallup Organization, Princeton, NJ. All rights reserved. Clifton StrengthsFinder ® and each of the 34 Clifton StrengthsFinder theme names are trademarks of The Gallup Organization.
Learner
People strong in the Learner theme have a great desire to learn and want to continuously improve. In particular, the process of learning, rather than the outcome, excites them.
Responsibility
People strong in the Responsibility theme take psychological ownership of what they say they will do. They are committed to stable values such as honesty and loyalty.
Harmony
People strong in the Harmony theme look for consensus. They don't enjoy conflict; rather, they seek areas of agreement
Input
People strong in the Input theme have a craving to know more. Often they like to collect and archive all kinds of information.
Arranger
People strong in the Arranger theme can organize, but they also have a flexibility that complements this ability. They like to figure out how all of the pieces and resources can be arranged for maximum productivity.
Professional Learning Networks
Google Certified Teachers
Tech Learning 2010
School Leadership20.com, is a professional networking site for those interested in advancing their learning through an online learning community of over 1,300 members. We encourage you to sign up to participate in the discussions and watch the many inspiring videos.
Data Warehouse
ASCD
Certifications
Power School Certified – Level 1 Boces Westbury, Ny 10/01/2009
School District Administrator Permanent Certificate 09/01/2004
School Media Specialist (Library) Permanent Certificate 09/01/2000
Pre-K-6 Elementary Education Permanent Certificate 09/01/2000
Favorite Online Resources
iTunes
Websites
Blogs/Online Publications