Barry MacDonald
by
Goran Kimovski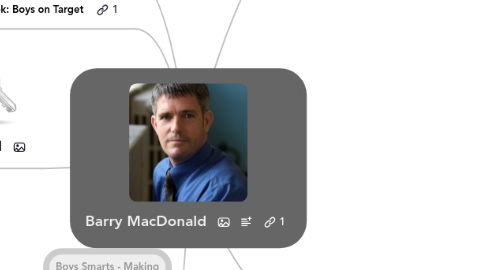 0.0
stars -
0
reviews range from
0
to
5
Barry is a Registered Clinical Counsellor, educator, and international advocate for learners—especially boys—who struggle with traditional classroom learning. As the founder ofMentoringBoys.com and best-selling author ofBoy Smarts, he helps parents, schools, and community leaders respond in empathic, imaginative ways. Barry was identified as one of25 Influential People to Watch by the Vancouver Sun for his innovative approaches to mentoring boys for success. For a detailed bio, click here.
Boys Smarts - Making Sense of Gender and Learning
Legend
Use the + and - icons to expand/collapse nodes
Hover over the circle with lines to read attached notes
Well done!  
Difficult time for those of us teaching boys
Once upon a time I would've said
The truth is we don't know what the future will look like for them
2/3 of students in special programs are boys
2 out of 3 students who drop out are boys
When boys are floundering
A boy was having one difficulty at school
The average age at which boys speak clearly is 4 and for girls that is 3
A gender doesn't determine effective teaching
Children need to be together to learn how to get along
What is the purpose of education?
Searching (Googling) for this gives millions of results
What can a boy teach us about this
We have to acknowledge that most children by the time they are 5 they are bombarded with more info than we by age 20
Teachers a no longer the Gatekeepers!
Not everyone shares the same visual-spatial skills
What if teachers had the resources...?
Need to think beyond simple boys vs. girls education'
Instead of ignoring the children's needs