Dan Pontefract
by
Goran Kimovski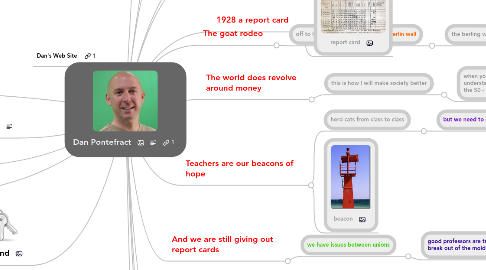 0.0
stars -
0
reviews range from
0
to
5
As Senior Director / Head of Learning at TELUS, Dan is responsible for the overarching learning strategy for the company. Dan is a passionate leader in the learning and collaboration space that ensures an organization can move from traditional based learning to embrace non-traditional based learning inclusive of asynchronous modalities such as social media, video, eLearning, podcasts, virtual classroom and other social learning / social networking opportunities. His career is interwoven with both corporate and academic experience, coupled with an MBA, BA, B.Ed and multiple industry certifications and accreditations. Dan is also a renowned speaker. Detailed bio.  
Hover over the circle with lines to read attached notes
Well done!  
Use the + and - icons to expand/collapse nodes
for the past 12 years
a problem
Mr. Classroomachev: Tear Down This Wall!
Legend
Mr. Classroomachev - which we will figure out
bricks to a wall
Corporate Wall
The goat rodeo
off to high school
The single room school house
old school house
we are still walled
yes we have lots of "i" things
Lecture Halls
tear down this wall!
disaffected bored kids - too many theories
Funny thing happened
Teachers are our beacons of hope
herd cats from class to class
beacon
1928 a report card
report card
And we are still giving out report cards
we have issues between unions
50% of the time I want theory
then real world experience
The world does revolve around money
this is how I will make society better