sistema operativo
by
debora jimenez luna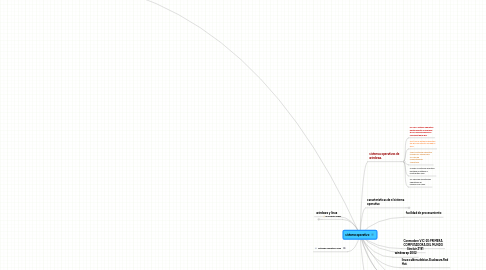 0.0
stars -
0
reviews range from
0
to
5
sistema operativo
This is just a demo map that you can delete right away, if you feel like it...
windows 95, y windows 98
facilidad de procesamiento
windows y linux
caracteristicas de el sistema operativo
conveniencia, eficiencia, habilidad para evolucionar,admnis. hardware,relaqcionar dispositivos,organizar datos,manejar las comunicaciones en red, procesamiento por bytes facilitar las entradas y salidas.
sistema linux kernel
linux:caldera,debian,Slackware,Red Hat.
Sinclair Z*81
Conmodore VIC-20:PRIMERA COMPUTADORA DEL MUNDO
sistemas operativos linux
sistemas operativos de windows.
ms-dos: sistema operativo perteneciente a la familia DOS comercializado por Microsoft para IBM.
OS/2:es un sistema operativo de IBM que intentó suceder a DOS.
Macos:sistema operativo creado por Apple para su línea de computadoras Macintosh.
Unix:es un sistema operativo portable,multitarea y multiusuario. Bell.
No vell:área de sistemas operativos de redes.SUSE Linux.
tipos de sistemas
intentó suceder a DOS como sistema operativo de las computadoras personales.
Atajos del Teclado
INS para insertar (Windows)
TAB para insertar (Mac OS)
ENTER to add siblings
DEL para borrar
Todos los atajos
Puede hacer doble clic o arrastrar y soltar el lienzo
¿Tiene dudas?
Ayuda en Linea
Uso de plantillas y casos, Lista de Pendientes Personales, Planeación de Vacaciones, Minutas de Reunion, Plan de Proyectos, Más...
Herramientas y Gadgets, Modo Offline, Herramientas Geistesblitz, Email y SMS, Compare las Ediciones
en los años 1980s
Visitar: http://www.mindmeister.com/services/tools/geistesblitz_widgets
window xp
window xp 2002
Nuevo nodo