CONDITIONALS
by uriel escalona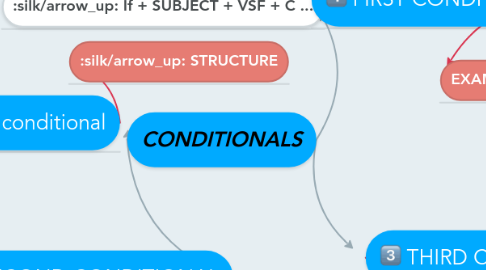 1. 1.-If you had studied for the exam, your parents wouldn´t have punished you. 2.-If I had have money yesterday, I´d have bought a chocolate.
2. Subject + would/wouldn´t + HAVE/HAS + VPP + C.
3. If + Subject + HAD + VPP + C...
4. 1.-If I had a brother, I would be a the worst brother. 2.-If I studied hard, I would pass the exam 3.- If you swam in the ocean, you would watch lots of fishes 4.-If I won the lottery, I would be rich
5. To talk about events that didn´t happen.
6. USE OF THIRD CONDITIONAL
7. STRUCTURE
8. EXAMPLES
9. ANSWER Subject + WOULD/WOULDN´T + VSF + C.
10. If + Subject + VSP + C
11. To talk about dreams or something unreal.
12. 1.-If you don´t do the homework, you won´t pass 2.-If I eat chocolate, I´ll be happy 3.-You won´t feel better if you don´t drink water 4.- I´ll be married if she says yes!
13. ANSWER Subject + will/won´t + VSF + C
14. If + subject + VSF + C...
15. You can use it to talk about future posibilities of something
16. It´s used for PRESENT true (real) situations or scientific facts.
17. USE OF SECOND CONDITIONAL
18. USE OF ZERO CONDITIONAL
19. 1.-If you drink a lot of coffee, you can´t sleep 2.-If you run 100 km, you get tired 3.- The teacher gets angry if you don´t work 4.-I can´t talk with you if I feel nervous
20. EXAMPLES
21. EXAMPLES
22. ZERO conditional
23. ANSWER SUBJECT + VSF + C
24. If + SUBJECT + VSF + C ...
25. STRUCTURE
26. STRUCTURE
27. STRUCTURE
28. USE OF FIRST CONDITIONAL
29. EXAMPLES
30. FIRST CONDITIONAL
31. SECOND CONDITIONAL
32. THIRD CONDITIONAL