child labour
by
Dave Pierce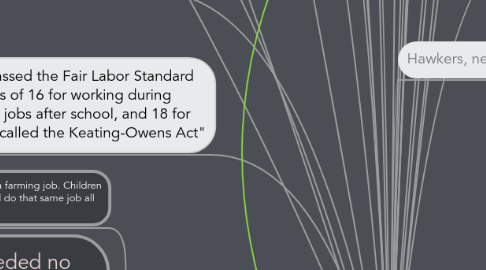 0.0
stars -
0
reviews range from
0
to
5
This is just a demo map that you can delete right away, if you feel like it...
worked long hours with no breaks
Factories were often damp, dark, and dirty.
Kids worked in fields picking crops for 12-18 hours. It was very backbreaking work.
It took a long time for the U.S to see that child labor was wrong. By 1889, 28 states had owtlawed child labor.
Salesmen: they did this job for their families and were more successful than others.
Miners had rapid skeleteal growth, smaller sizes, greater risk of hearing lose and lower heat tolerance.
New node
Cotton Mills
were decapated
got sickness
had to climb on the spinning machine to mend broken thread and to ut back the empty bobins
In glass factories, they did not need adult s to power the machine.
Children worked in small coal mines. Adults couldn't fit into the small places so they hired kids.
Hawkers, news boys, and canneries.
Types of jobs
They could also get a farming job. Children would pick crops and do that same job all day long.
Cotton mills: children needed no skill, and owners would hire kids for less.
Meat-packing houses
Shoe shiners
Children worked in harvesting crops in extreme temperature for long hours was considered normal for these children.
Children also worked as paper boys or newsies. If they worked in the rain, they often got pnemonia.
no more than 8 hours of work
Underweight
if a child is late
fired
pay decline
Silk mills: they would buy kids from orphanages. An owner of a silk mill took children from workhouses in London to work there.
Sardine packaging had long sharp knives and slippery floors which didn't end up very well.
A hospital said that they get over 1,000 injuries a year from children who worked.
By the end of the day the children became very exhausted and careless about the machinery.
The loud machinery lead to hearing loss.
Most children started working at the age of 5.
Children often worked for 12-18 hours a day and got paid very little.
Many children were underweight, stunted growth, curvature of the spine in developed diseases related to work environment.
They could also work in different factories like: glass factories and textile factories/mills.
Then in 1938 Congress passed the Fair Labor Standard Act. It fixed minimum ages of 16 for working during school hours, 14 for some jobs after school, and 18 for dangerous work, this was called the Keating-Owens Act"
The factories were very dangerous places which lead to injuries scuh as legs and fingers getting chopped off.
Farm miners routinely used knives and any sharp tools and they can cut themselves with, which they don't have any clean water, they would get infected.
Not only this but there was toxins and poisoned fumes that even lead to deaths.
Children factory workers produced drugs like cigars and smoked them.
The factories were low roofed; ill-ventilated; and ill-drained.
By the early 1900's, Americans began to call child labor slavery and were demanding an end.
In 1918 and 1922, laws were presented to abolish child labor. However, they were claimed unconstitutional by the Supreme Court.
Some people who worked in coal mines and cotton mills were prone to diseases such as tuberculosis and bronchitis.
One person's arm was ripped off and no conpensation was paid.
Period 1
Period 4
Groups formed against child labor
Period 6
Dust in coal mines would get into miners' lungs and cause health problems
Period 3
Health problems
Types of jobs
Child labor laws/attitudes
Working conditions
Period 7