HISTORIA DE LA ANIMACIÓN
by Rosa Delia Flor Ortiz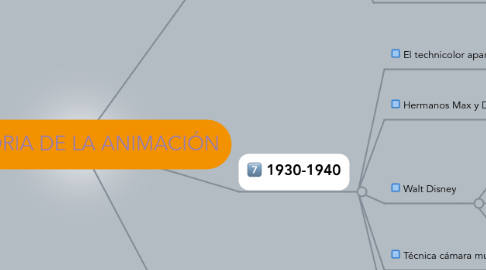 1. 1900-1930
1.1. Primer dibujo animado en la historia. ,en disco de papel.
1.1.1. Determine Project Approach, Stages and Steps
1.1.2. Estimate Project Duration
1.1.3. Establish Resource Requirements
1.1.4. Prepare Project Schedule and Budget
1.1.5. Prepare Work breakdown structure
1.1.6. Document Success Criteria
1.1.7. Review Project Schedule
1.2. Dibujos mudos tiza sobre una pizarra,fotograma
1.2.1. Se incorpora el sonido a las animaciones.
1.3. Max Fleischer inventa el rotoscopio
1.3.1. Aparecen personas y objetos reales con dibujos animados.
1.4. La animacion con Walt Disney
1.4.1. Cine sonoro con el dibujo del ratón Mickey
1.4.1.1. Creado por Ub Lwerks
2. 1930-1940
2.1. El technicolor aparece en
2.1.1. Flower and Trees
2.2. Hermanos Max y Dave Fleischer
2.2.1. Dan vida al personaje
2.2.1.1. Payaso Coco
2.2.2. Aparece Betty Boop
2.2.2.1. Popeye
2.3. Walt Disney
2.3.1. Incorporo a la historia de la animacion
2.3.1.1. El sonido estereofonico
2.3.1.1.1. En la pelicula Fantasia
2.3.2. Conduct Team Status Review
2.3.3. Create Status Report
2.4. Técnica cámara multiplana- largo metraje
2.4.1. En 3 D
2.5. DISNEY decide hacer largo metraje
2.5.1. Blanca nieves y los siete enenitos
3. La era de la TV AÑO 50
3.1. Cierra el estudio por bajo prtesupuesto
3.1.1. Waner sobre vive- picapiedra