HISTORIA Y TEORÍA DE LA ANIMACIÓN
by
Esther Cecilia Zemanate Garcés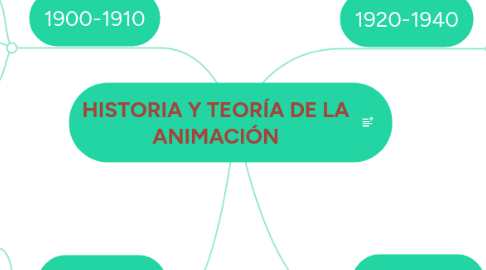 0.0
stars -
0
reviews range from
0
to
5
HISTORIA Y TEORÍA DE LA ANIMACIÓN
Use task properties such as completion, due date and assignee to manage your tasks. Click on the completion icon to advance progresses.
1900-1910
1900 Disco de papel, ilusión óptica
1906 Stuart Blackton, Primer dibujo animado
1907 Stop Motion 3 dimensiones
1910-1920
1911 Starewicz, la venganza del camarógrafo
1914 Wirson McCay, dibuja figura y fondo compartiendo el mismo cuadro.
1915 Max Fleischer, Rotoscopio
1940-1960
Fantasía - Tom y Jerry
Bugs Bunny - Dumbo
Cenicienta, Alicia en el país de las maravillas
1920-1940
1928 Mickey Maouse
1932 Flowers and trees, Technicolor
1937 Blanca Nieves y los siete Enanitos.