Debate: Neuro-epistemology: RCTs are the gold standard in neurorehabilitation. NO! by D. Muresanu, Romania
by
Paul de Roos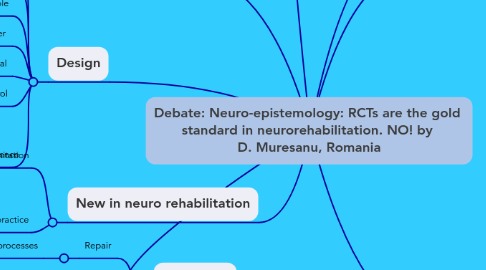 0.0
stars - reviews range from
0
to
5
Debate: Neuro-epistemology: RCTs are the gold standard in neurorehabilitation. NO! by D. Muresanu, Romania
RCT's are the gold standard in neurorehabilitation: position NO
making decisions based on evidence
How to apply generatlisations to individuals?
Feinstein AR. The problem of cogent subgroups: a clinicostatistical tragedy j clin epidemio
RCT
Internal validity
external validity
No accepted guidelines on how external validity of rct's should be assessed
One explanation for widespread underuse
External validity needs clinical rather than statistical review
The "Gulf"
How to bridge the "Gulf"
In practice
Repair
Damage
Inflammatory mechanisms after ischemia and stroke, Danton GH, J. Neuropath Exp
Meeting notes by
Paul de Roos
Mindmap hosted on
Meeting
New in neuro rehabilitation
learning by imitation
imagination and mental practice
Design
randomised
controlled
multiple
crossover
trial
patient serves as it's own control
well conducted n of 1 trials to individualize therapy has led to a recent revision of the hierarchy of evidence for interventions, placing the n of 1 trial at the top of the levels of evidence
Convention
Congress of the society for neuroplasticity and neuroprotection?! (is this correct - missed)
SSNN eastern european neurology summer school for young neurologists